The name on everybody's lips is……..Chicago, and the musical has arrived at The Met in Bury this week, the latest of what seems like endless productions of this piece taking place across the region this year. PADOS Theatre Group have resisted the urge to follow the original productions staging that I have seen other societies copy and reimagined the show to great effect.
The set consists of two sets of gold trimmed steps leading up to a raised platform which all frame a central dais that moves in and out of the stage acting as a stage within a stage. All this is topped off with a stage wide Chicago sign in lights. Simple yet highly effective. The whole stage comes to life with the sensational lighting from Robert Armstrong, rarely do you see such a detailed lighting plot on an amateur production.
The show revolves around the two central characters of Velma (Katherine Reynolds) and Roxie (Izzi Feld) who end up in Cook County jail together and are fighting to clear their names. Velma is a nightclub singer who was accused of murdering of her husband and sister, and Roxie accused of murdering Fred Casely who whilst having an affair lied to her about being able to get her into showbusiness. Corrupt governess "Mama" Morton (Alison Foy-Thackwell) suggests Roxie employs the best lawyer in the business Billy Flynn (Simon Fletcher) to defend her. Flynn turns Roxie into an overnight sensation by reinventing her life story which throws Velma out of the limelight and she approaches Roxie to join her act replacing the sister she is accused of murdering.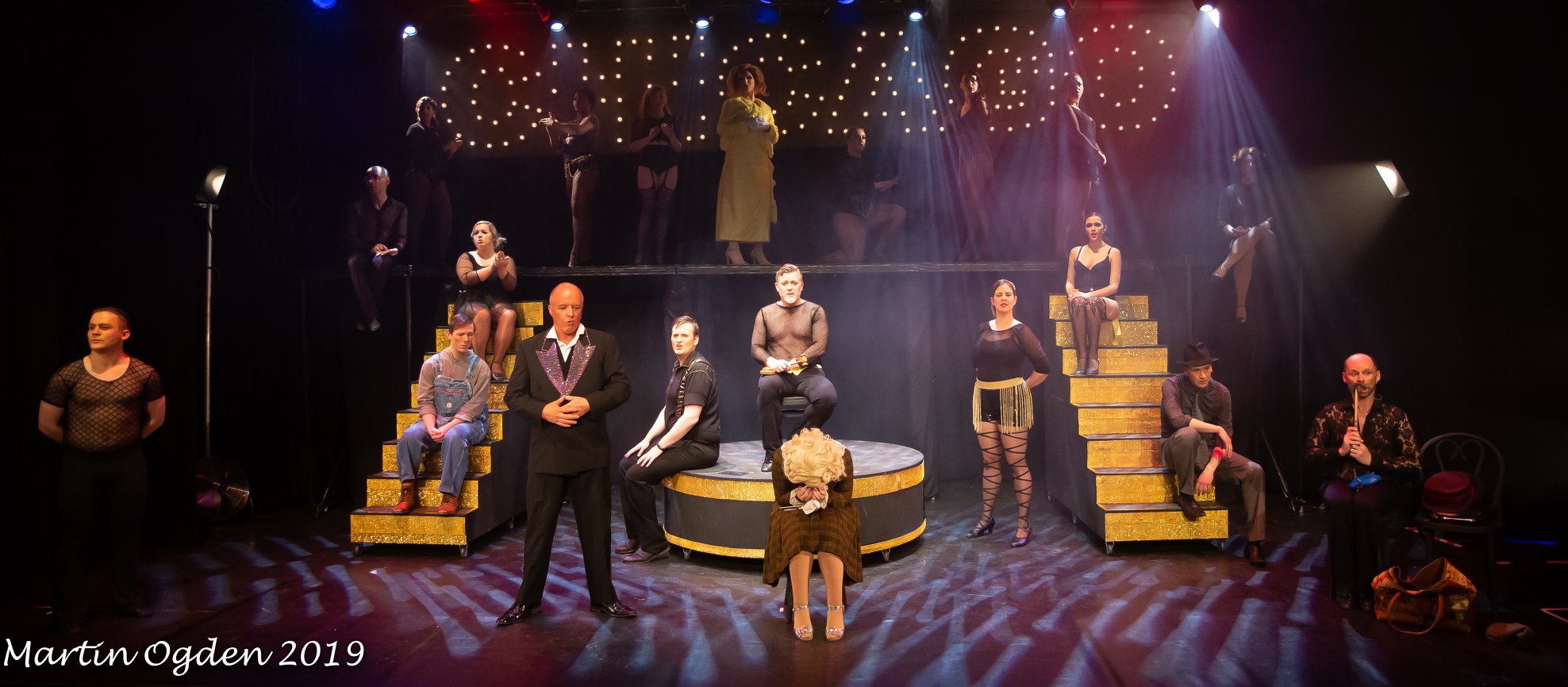 PADOS have struck gold with this production. Reynolds and Feld are superb in their roles both showcasing superb vocals and acting abilities. Foy-Thackwell as Mama Morton shows her caring side towards the girls whilst maintaining her one aim, to make as much money as she can out of them. Her performance of "When You're Good to Mama" was one of the many show-stopping numbers tonight. Completing the leading four was Fletcher as the playful Billy Flynn who embraced the role wonderfully and quickly became an audience favourite.
The star of the show for me however was Tim Platt as auto mechanic and hapless husband of Roxie. Platt's mannerisms were spot on throughout the show, a victim of his own innocence his performance of "Mister Cellophane" was one of the best I have seen in this show anywhere.
The leading roles were supported by a superb ensemble who performed the choreography from Helen Wilkinson with passion and commitment with "We Both Reached for the Gun" and "Razzle Dazzle" being particular highlights.
A sizable band under the direction of Matt Corrigan sounded stunning from beginning to end.
PADOS have, in Chicago produced an exemplary show with tight direction from Mark Rosenthal, slick staging, sublime band and amazing choreography. Truly one of the best shows I have seen this year.
Chicago continues at The Met in Bury until Saturday and looks to be completely sold out, if you've got a ticket for the remaining shows enjoy the razzle dazzle of this inspiring production.
Reviewer: Robyn Stoares
Reviewed: 11th April 2019
North West End Rating: ★★★★★