No writer has shed light on the faults and foibles of the British middle class as well as Alan Ayckbourn, for over fifty years his plays have satirised their social pretensions and skewered their aspirations. He has been compared to both Chekhov and Moliere and his prodigious output has become a staple of repertory companies throughout Britain.
Set in three Acts over successive Christmas Eves, Absurd Person Singular follows three couples as they rise up and fall down the social scale in early 1970's Britain.
Initially, we find ourselves in the kitchen of the thrusting, but gauche Sidney (Graham Simmonds) and his equally socially naive wife Jane (Ros Greenwood). They are both desperate to climb the greasy pole and to impress their perceived social superiors, architect Geoffrey (Matthew Foster) his wife Eva (Kim Armston) and banker Ronald (Simon Garland) with his overbearing wife Marion (Laura Chandler). However, Sidney and his wife are ill at ease with the upper middle class conventions on display and are patronised roundly for their boorish materialism throughout the evening.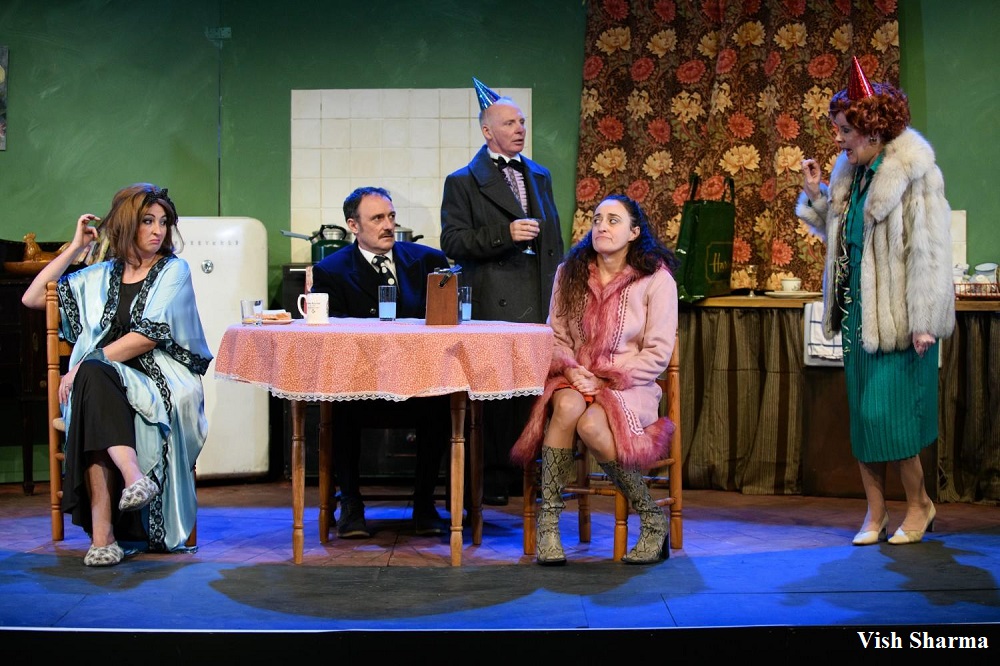 In the second Act, we move to the flat of Geoffrey, where we witness his increasingly depressed wife Eva attempting to commit suicide in a variety of ways, only to be misconstrued by the others with increasingly farcical results.
After the interval, our third and final act is convened at the freezing cold home of Ronald and Marion, continuing the tragi/farcical theme into darker territory, culminating in a game of musical consequences which grows increasingly slapstick, physical and eventually disturbing.
Where Ayckbourn as a writer adds texture and depth to what could otherwise be seen as a formulaic farce, is by using the three act structure to comment on the rise of the meritocratic Sidney at the expense of his less ambitious contemporaries. By the end of the third Act, all the characters are literally and metaphorically dancing to his tune, he is now seen as representing a class who will hold power in the New Britain, foreshadowing the rise of Thatcherite society.
It is here that Director Kathy Searcy has missed the opportunity to emphasise the social commentary acting as an underbelly to this ostensibly comedic play, contrasting a Pinter like darkness in the writing with the farcical action on stage.
Searcy conveys the comedic elements of the play well and it is in this milieu that she and her actors demonstrate their strengths. Garland and Chandler are particularly noteworthy as the increasingly impoverished banker and his alcoholic wife, but we consistently miss the sharp barbs of Ayckbourn at the expense of broader comedy throughout. This has the effect of blunting the satirical message of the piece and leaves the eventual denouement lacking in power and meaning.
The cast also have to deal with extracting humour out of what sometimes sounds like dated and sexist material. Some of the sentiments expressed in the writing sound hugely misogynistic to modern sensibilities and resulted in the pace and humour ebbing and flow in an inconsistent, uncertain way.
Costumes and lighting evoke 1970's suburban mores with precision and the staging was excellent with a revolve used to display each of the three couples kitchens with detailed effect.
To me, the whole piece felt dated and reminds one how far society in general, and theatre in particular have evolved over the last 45 years. It was a missed opportunity to re-examine an interesting writer in a way that may be relevant to a 2018 audience.
However, the audience in the Altrincham Garrick (Bowdon dressed in Boden for an early Christmas night out) lapped up this interpretation, leaving me in no doubt that here Ayckbourn has found his middle class spiritual home.
Reviewer: Paul Wilcox
Reviewed: 27th November 2018
North West End Rating: ★★