"Come Blow Your Horn" was the first play Neil Simon wrote and it became a Broadway smash hit in 1961. In 1962, it ran in the West End starring Michael Crawford and Bob Monkhouse and in 1963 it was made into a film starring Frank Sinatra with a cameo by Dean Martin. Not bad for a first attempt!
Tonight the Players Theatre took on this long-established comedy and I believe they certainly did it justice, with high quality acting and a wonderfully detailed set.
The story is about a swinging bachelor, Alan Baker, who is living the playboy lifestyle with women a-plenty. His younger, geekier and very unworldly brother arrives on his doorstep, having taken the plunge and left home. Both the brothers work for their father in the family business (wax fruit(!)) and there is much anger from the father and whining from their rather neurotic mother. The play deals – in a comedic way – with the fallout from this and also the transformation of both brothers over the course of the play.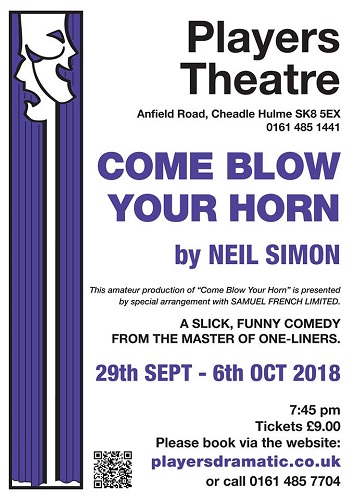 I thought all the actors tonight were excellent but in particular, Dan Pothecary as Alan Baker and Robert McGregor as Buddy Baker. Buddy's transformation from geek to chic was a real contrast – I have to say I preferred the geeky side of him, which was hilarious. I loved his weary, sarcastic humour which was particularly brought to the forefront when dealing with his mother.
Dan played Alan as very hip and of the time but when confronted with the changed character of Buddy – who becomes just a younger version of him – he doesn't like this at all. He's been usurped but also, he doesn't like what he sees. This has the effect of making him take stock and decide to settle down. There is a scene between Alan and Buddy where they are arguing and it really made me sit up and get drawn in, I thought it was very believable indeed and extremely well acted. I liked the way they stood and the gestures they made, it was very authentic. I also really laughed at the line "stay away from my cookies!" when Alan reaches the peak of frustration and has had enough of his sibling stealing his life from him.
The parents are played by Debbie Burnett and Lee McGregor. Both were hilarious. Mr Baker is constantly angry and cantankerous and his physical comedy and facial expressions made me laugh many times. His eyebrows! They are hypnotic! Debbie plays the high maintenance and rather whiney Mrs Baker very well indeed, her delivery and intonation are just right for the character.
Two of Alan's love interests (Peggy and Connie) are played by Amy Butler and Emily Williams respectively. I loved Peggy's gullibility and silliness. Connie managed to wrap Alan around her little finger and Emily's portrayal of her was well placed.
I did feel that some parts of the script could have been condensed and the play took a while to get going as there was a lot of scene setting but this is a criticism of the script, not the performers.
I must give Anne Wint a mention – she is responsible for the set design and has done an outstanding job in sourcing authentic props to replicate a 1960s New York bachelor pad. All her hard work has certainly paid off. Credit too must go to the set building team who have made full use of the limited sized stage area and have used every part of it to create the fabulous set.
As usual, the wardrobe department (Pam Lambert) have come up trumps with fantastic outfits (sourcing a particularly snazzy jacket for Buddy Baker which certainly caught my eye).
Another success for the Players Theatre where the attention to detail and theatrical passion shines through.
Reviewer: Nicky Lambert
Reviewed: 1st October 2018
North West End Rating: ★★★★