The US Navy are in town this week at the Opera House in Manchester as brand new musical An Officer and a Gentleman opens to a spontaneous standing ovation on its official press night.
Based on the original screenplay by Douglas Day Stewart iconic songs from the 80's have been woven into this compelling story unlike other "jukebox" musicals where songs are shoe-horned in to less gripping storylines.
An Officer and a Gentleman follows Zack Mayo (Jonny Fines), a US Navy Aviation Officer Candidate who undertakes training at Aviation Officer Candidate School. While Zack meets his first true girlfriend Paula (Emma Williams), during his time away from the school not everything goes to plan as Zack clashes on more than one occasion with the drill instructor (Ray Shell).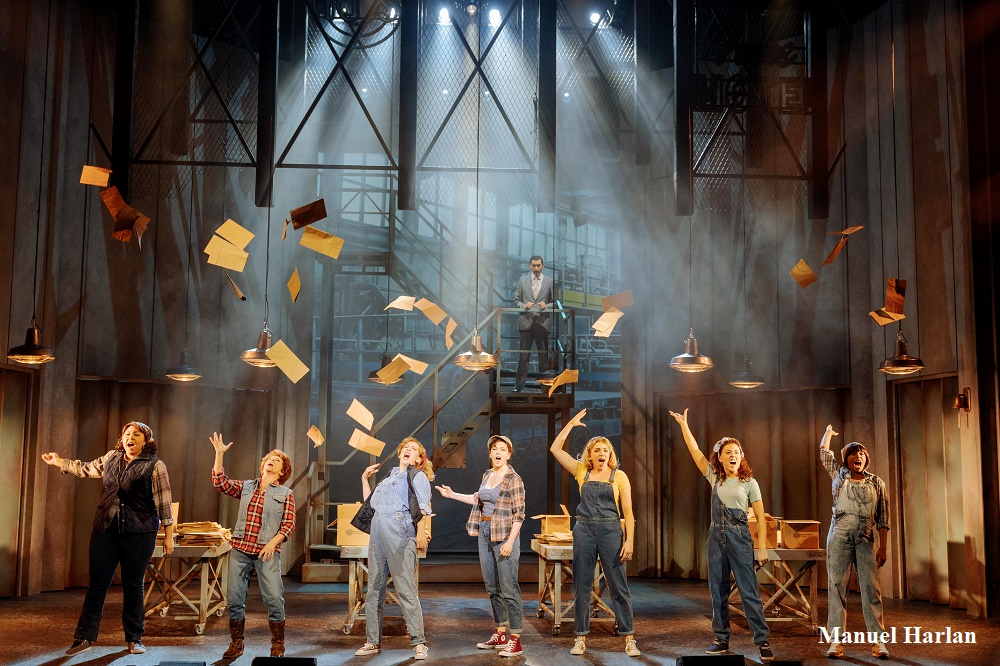 Also on the course Sid (James Darch) becomes good friends with Zach and they go out on the town together and he picks up Lynette (Jessica Daley) and begins a relationship with her, that unbeknown to him she wants to result in marriage and living the naval life overseas. Joining them on the course is Casey (Keisha Atwell) who is vying to become the first female navy pilot.
This is a strong cast throughout, however for me the ladies outshone the gentlemen this evening. Williams and Daley as the two factory workers who become romantically involved with their Navy men are superbly cast. Daley plays the scheming Lynette just right while Williams as Paula steals the show for me. I have long been a fan of Williams and her performance of "Alone" in act 2 just cemented my view that she is one of the best female musical theatre performers in the UK right now.
Keisha Atwell as Casey was also strong as she battled to overcome the hurdles required to qualify as a naval officer. Vocally powerful and a bundle of energy on stage.
The gentlemen in this production have a hard time on stage, the physical training scenes for me looked exhausting. Shell proved a worthy drill instructor with a fine voice, however for me he was not as menacing as I think he could be early on with his softer side showing itself earlier than it should do.
Fines and Darch (understudy) played their characters well, but lacked a little something for me. I believed the female characters so much more than the men's. Darren Bennett as Zach's father Byron impressed in the flashback scenes.
An 8-piece band sounded stunning in the pit under the direction of Michael Riley playing some superb new arrangements of famous 80's tunes thanks to George Dyer, bringing a whole new life to very familiar songs.
Finally, I have to mention the staging tonight, it was one of the most impressive sets (Michael Taylor) I have seen from a touring musical in a while. Packed full of projections and stunning lighting effects (Ben Cracknell) there was never any doubt in which location you were watching the action.
Directed by Nikolai Foster, An Officer and a Gentleman is one of the better "jukebox" musicals if you want to give it that tag. Posters outside the theatre state it is going into the West End where I think it will do well on a limited run with a bit of tweaking here and there.
Reviewer: Paul Downham
Reviewed: 13th August 2018
North West End Rating: ★★★★