Manc Made returns to the arches of 53Two for the second edition. Spread over an afternoon and into the evening the format is much more user friendly than the first edition which was presented over 3 nights. The quality of new writing on show during the five 15 minute plays was quite honestly superb.
The day was hosted by Sushil Chudasama who has worked extensively in TV, Radio and Film and also one of today's directors. After a brief introduction about the day ahead and some facts about why our city of Manchester is so good the plays began.
Up first was "Don't Forget" by Mick Cooper and directed by Joel Parry. A bridegroom Rich (Gareth Bennet-Ryan) is getting ready on the morning of his wedding with his best man (Greg Kelly) when his bride (Morag Peacock) turns up unexpectedly wanting to hear the groom's wedding speech and the reasons he loves his bride to be. Not all however is as it seems in this moving piece.
Second on the bill we saw "Cross Words" by Scott John Cooper and directed by David Whitney. Set in a living rood husband and wife (David Howell and Patricia Jones) are stuck in the day to day monotony of married life whilst one of their sons (George Astbury) spends most of his time in his room. Is he a recluse, or is there a more serious underlying reason for this behaviour. He has no job, no money and no mates. Does the answer to his problems lie within the crossword from his mother's newspaper?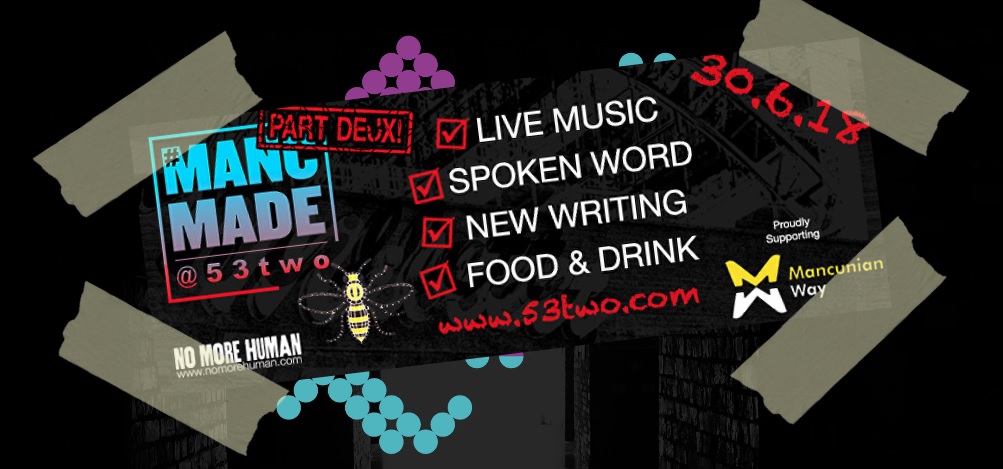 Third this afternoon was the excellent "Heart to Heart" by Chloe McLaughlin and directed by Lauren Sturgess. This is a post NHS gameshow where contestants (Lucy Avison and Rob Mitchell-James) compete live on TV for the chance to win a heart transplant! Hosted by glamourous Christine (Victoria Oxley) alongside expert Brett (Ethan Holmes) each contestant is quizzed about their past before presenting a one minute plea as to why they are most deserving of a heart transplant before the audience votes for the winner! The moral of this play is that you shouldn't be judged on looks and preconceptions alone.
This is a disturbing but humorous look at what life could be like if the NHS every collapsed and a world where human organs are being auctioned off to the highest bidder.
After the interval performance poet Dave Viney presented a 20 minute set with some exceptionally clever and well written pieces centred on his northern roots. Highlights included tales about his first gig in London, the reason Stretford refuses to be gentrified and a self-penned list of new Northern Rail delay excuses. Viney is a talented performer who I would love to see more of in the future. His final piece about Manchester written after last year's bombing drew the biggest ovation from the audience all afternoon.
Back to the plays and "A Whistling Kettle" was up next written and performed by Joey Ellis and directed by our host for the day Sushil Chudasama. This was a heart wrenching monologue as a father recounts memories of his late wife to their 4 month old son whilst on a visit to their special place in the local park. For me this was one of the best written pieces of the whole afternoon.
Finally we were treated to "The Anniversary" by Victoria Connerty and directed by Simon Naylor. What can I say about this piece, I loved it and was truly the stand out play of the day. Debbie (Karen Henthorn) and Stella (Meriel Scholfield) are sat in Stella's living room deciding what to do with the ashes of Stella's husband, Debbie's brother, Bill. I sat through the whole 15 minutes of this play with a broad smile on my face. Exceptionally well written and acted, Henthorn and Scholfield's periods of silence were as funny as their lines. The funniest moment by far was when Henthorn acted out what can only be described as When Harry Met Sally meets Chocolate Digestives!
Prior to and following the plays audiences were treated to a number of musical performances from Katie Anita, James Holt, Dantevilles and Lauren Luca.
Manc Made was a stunning success in the arches. The standard of writing and performance was exceptional throughout with each piece having its own set on the 53Two stage. There cannot be a better theatrical celebration of the great city of Manchester. I cannot wait until part three takes place and will be one of the first in the queue for tickets.
Reviewer: Paul Downham
Reviewed: 30th June 2018
North West End Rating: ★★★★★