Jason Robert Brown's The Last Five Years (2001) subverts the conventional musical in tone, plot and score, with an intensely personal examination of the rise and fall of a five year relationship between Jamie Wellerstein, a rising novelist, and Cathie Hiatt, a struggling actress.
The two-actor show uses a unique storytelling approach where Cathie's experience is told in reverse chronological order – beginning the show at the end of their marriage – whilst Jamie's is told in chronological order, starting just after the couple have first met.
Putting on this show is no mean feat, particularly for the two actors involved and I had high hopes having recently seen Helen Claire Rose (Cathie) and Samuel Maurice (Jamie) play lead roles in Bonnie and Clyde (Blanche Barrow) and Parade (Leo Frank), respectively. I'm pleased to say they did not disappoint.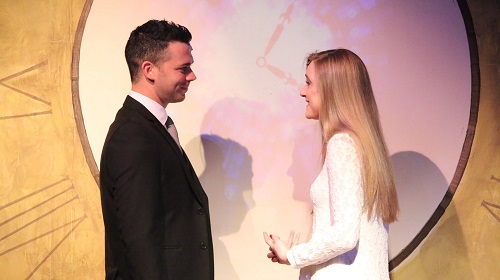 For this show, putting the required emotion and expression both musically and facially is some skill. This pair had it in spades. Helen's rendition of I'm a Part of That sung at Jamie's book party about how he ignores her for his writing but she will always love him, was a masterclass in how to put a song across – a particularly poignant moment was when she looked at the opening page of his book, perhaps learning that she has not been mentioned in the acknowledgements. Another highlight was When You Come Home to Me – the comical observations about the audition process had me chuckling in the audience and we could hear every word clearly enunciated in what is a challenging part of the song. Well done. Overall, Helen impressed me with the way she was able to portray Cathie's underlying sadness in what should be happier moments of the story, at first glance.
Samuel shone equally as brightly. Also a vocal powerhouse, his style of acting was more understated, which contrasted well to Helen's more emotional character, showing effectively the various degrees of chemistry between them from the closeness of the first meeting, to living together, to his eventual affair. Favourite moments include the early excitement of dating someone outside his Jewish heritage Shiksa Goddess, The Schmuel Song and when he is fighting with Cathy, trying to get her to listen to him.
He accuses her of being unsupportive of his career just because hers is failing – whilst his words are harsh, he promises her that he believes in her If I Didn't Believe in You. Though Helen should get some credit for this moment, as her sadness during this scene was heart-breaking, whilst not saying a word, before going straight into the anticipation of meeting Jamie's parents for the first time in I Can Do Better Than That – what a contrast of emotional states that seemed just effortless for her.
Director Mark Rosenthal already wowed us with his casting and direction of the songs / scenes, excelling at ensuring that Jamie / Cathie didn't detract from the other being the focus of a particular moment, such as ensuring Jamie have his back to the audience whilst Cathie sings See I'm Smiling.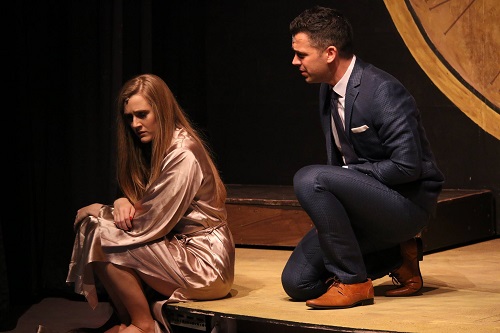 The staging was just as impressive. The minimalist set of a changing clock projection to show the passage of time (an integral theme of this show), hanging windows and a revolve worked well with the added extras of desks, Christmas trees, clothes rails et.al to drill down to specific places / moments in the story.
I particularly liked the use of the revolve at the only moment in the show where the pair inhabit the same emotional and chronological space for their engagement and marriage in The Next Ten Minutes. Jamie entered in a boat on the revolve moving forward clockwise and Cathie exited in the same fashion with the revolve moving anti-clockwise, back in time as her narrative was doing. In a way, it's a shame this is the only time Helen and Samuel get to sing together as it was a great moment, but this absence of interaction is a key facet of this show.
The clock was particularly used to great effect in The Schmuel Song where it took on a supporting role – glowing and literally moving back in time in line with what was happening in the story as Jamie was telling it. Lighting was simple yet effective and sound was generally solid throughout, aside from the odd crackle emanating from Samuel's microphone during Act 1 – this was fixed for crisp, clear sound in Act 2.
The six-piece band under the musical direction of Jeremy Sleith was exceptional. Pleasingly situated towards the back of the stage, they expertly handled the complex, intricate score with the string section in particular providing a beautiful, emotive accompaniment to the vocals.
This really is a show not to be missed, whilst you don't leave singing along or tapping your feet, you do leave feeling rather philosophical and thinking about your own life –evidence indeed of a well-performed, thought-provoking show. Playing until the 23rd June.
Reviewer: Alexandra Severn
Reviewed: 12th June 2018
North West End Rating: ★★★★