Dyad Productions founded in 2009 by Rebecca Vaughan (Creative Producer) and Elton Townend Jones (Director/Writer), presented this show this evening based on the H G Wells novel. Elton wrote the play in 2016/17, taking the original and re-creating it for the stage. He kept the thrust of Wells original but attempted to update the questions raised by Wells and bring it more into the 21st century.
The play is emotionally played by Stephen Cunningham who studied his craft at Queen Mary College, University of London.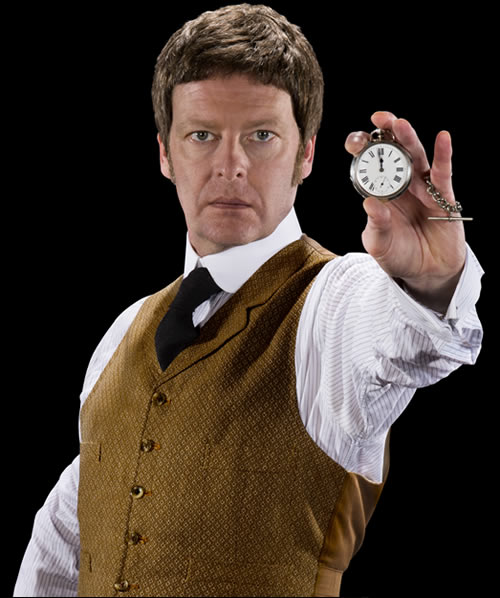 From the first moment Stephen takes to the stage he starts to paint a dramatic picture. The whole play is acted out in front of a plain white background. This is brilliantly utilised by the lighting provided by Martin Tucker. Stephen wears a costume by Kate Flanaghan that transforms him to the deep past. Sound effects provided by Danny Bright bring the words of Stephen to light and aid in creating a picture in the audience's mind.
We are taken way, way into the future thanks to a tiny pocket watch that is a time machine, and find that the human race has changed markedly, as the adventure plays out. This is a complex play that possibly requires a knowledge of the original H G Wells, but it's not essential as there are references to current day items. The brilliant acting throughout of Stephen truly brings to life the words.
For more information about Dyad Productions and regular updates you can follow them on Facebook or Twitter and get regular updates from www.dyadproductions.com
I took along my 11 year old son to this performance and although he has not read the original novel it was not fully out of his mental capacity to follow the story. It is certainly a thought provoking play that leads you to think where our future lies.
Reviewer: Tony Bellamy-Hibbert
Reviewed: 4th April 2018
North West End Rating: ★★★★