Tonight I watched Spring Awakening at Hope Mill Theatre. I was very excited to see how such a big musical would be performed in one of Manchester's smaller theatres, and was blown away by the performance.
Spring Awakening tells the story of a group of repressed teenagers growing up in nineteenth century Germany, and opens with Wendla (Nikita Johal) and her friends lighting candles on stage, with Wendla singing 'Mama who bore me.' This was stunning, and was matched with delicate movements and mirroring from her friends, Thea, (Beth Hinton-Lever) Ilse, (Teleri Hughes) Martha, (Seyi Omooba) and Anna, (Sophia Simoes Da Silva.) The scene to follow introduces Wendla asking her mother (Gillian Fitzpatrick) where babies come from, where she gets little response. In anger, the girls sing 'Mama who bore me reprise,' who show the most amazing passion and anger through their facial expressions and impressive dance moves. The choreography was slick and sharp, and it remained that way throughout the entirety of the show.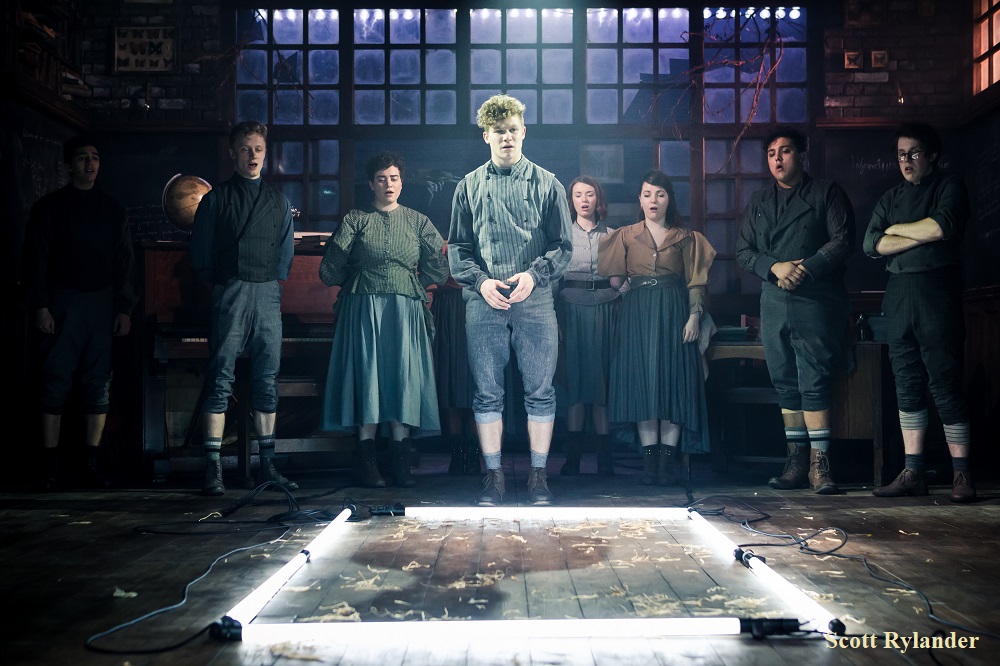 The following scene shows the male characters in a Latin lesson, where Moritz (Jabez Sykes) fails to recite a piece of the Virgil properly, so Melchior (Darragh Cowley) tries to defend him. I was amazed by Melchior's voice in the song 'All That's Known,' which was sung with intense emotion. This is then followed by all the boys, Ernest, (Luke Latchman) Otto, (Tim Mahendran) Georg, (Christian Tyler-Wood) singing the amusing song 'Bitch of Living,' which is about their repressed feelings, and dreams that they have been experiencing. Each of the boys showed their frustrations incredibly in this song through stylised choreography and movement. I particularly liked the incorporation of Georg later playing the piano in his piano lesson, as this fitted in well with the song. Melchior says that he will teach Moritz everything about his dreams in an essay.
We learn that Martha's father beats her with a belt, and the girls feel they ought to do something. Wendla can't stop thinking about it, and we see her get closer to Melchior. 'The Word of your Body,' was a highlight of the show, where both Wendla and Melchior's voices blended perfectly together. This leads to them to get closer and closer throughout act one, ending the act with them on top of each other.
Act two begins appropriately where act one had ended and the song 'The Guilty Ones,' which was a large group number performed brilliantly. Moritz has been kicked out of his house due to failing his exams and his father is extremely ashamed of him. He feels he has no place to go after saying no to walking home Ilse, and kills himself. This is followed by a funeral scene, where the cast bring out tall lights and lay them down on the floor to signify his grave. The funeral scene was so poignant I was moved to tears, as each cast member scattered petals. Moritz's dad (Neil Stewart) enters and completely breaks down. This was such a raw and genuine song performed by every member in the cast, the audience could really feel the pain they were experiencing.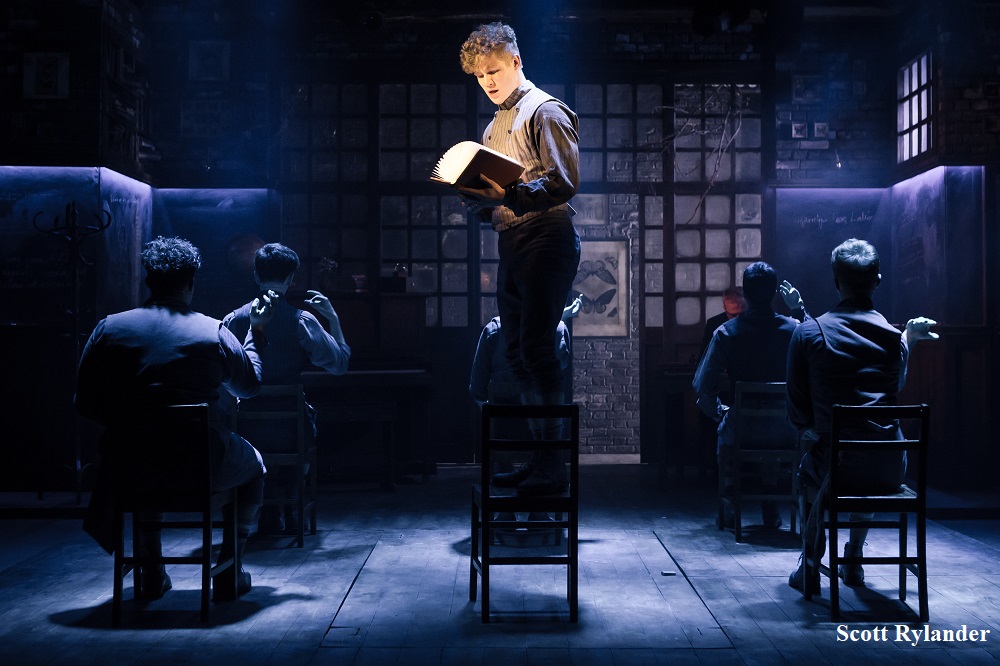 This sad song followed by a full cast song 'Totally Fu**ed,' where for the first time in the show we see the children let loose of all the rage and anger they have been holding in. This was in response to Melchior being questioned by his teachers, and was the perfect contrast to the previous scene and again was performed impeccably by each cast member, I was shocked where they found such energy to go from one extreme emotion to the next.
We learn that Wendla is pregnant, and her mother and Melchior's parents know but Melchior does not. His parents decided to send him away, where Wendla tried to write to him. The boys in the institution bully him and take his letter, so Melchior runs away. He tried to arrange to meet Wendla at the cemetery but she had been taken by her mother to get an abortion.
Melchior waits for her at the cemetery and observes the graves, and suddenly sees a new one which says Wendla, he is distraught and tries to kill himself. He then visited by the ghosts of Wendla and Moritz, who give him strength in the song 'Those You've Known.' Again I was moved to tears as it was sung so beautifully.
This musical is absolutely faultless and each and every person involved in it should be incredibly proud. The staging was an interesting choice that made the audience engrossed in the action, with traverse seating on both sides as well as typical frontal seating. The set was beautifully designed, and I loved the use of rectangles in the middle of the stage, whether it to show a grave or a table.
Spring Awakening absolutely exceeded my expectations and at the end it received a very well deserved full house standing ovation. I genuinely cannot recommend it enough and will be seeing it again.
Reviewer: Claudia Thomas
Reviewed: 3rd April 2018
North West End Rating: ★★★★★