Everyone thought it was a joke when Donald Trump announced he would running for the White House. However, nobody thought the American electorate would be stupid enough to vote this man into power. Trumpageddon is a satire of Trump's first year as President of the United States.
The show opens with a montage of clips of from interviews with people such as Tom Hanks saying that it would be impossible for Trump to be President. However, as the montage plays on we see Trump's popularity rise and win enough electoral states to be declared 45th American President. The montage ends with a shocked news reporter informing viewers "you haven't died and gone to hell".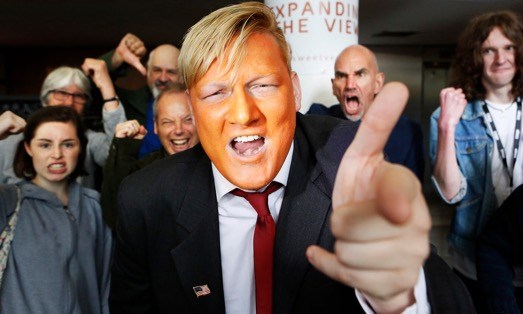 Simon Jay plays the obnoxious Trump well. However, it's the content of the show where Trumpageddon falls flat. It takes the form of a question and answer session with the audience. It was clear Jay had a set number of answers ready for any questions he would be asked, which meant some of questions weren't answered particularly well.
There was also a bit of audience participation in the show. When a female member of the audience was on stage Jay tried to get across Trump's perverted nature. But this was just cringey to watch. The conclusion of the play where he attempts to rape his worker Lara was really wrong. It felt like they were trying to make a joke out of it - just my opinion, but rape is never funny!
In the end it was like a bad smell that wouldn't go away.
Reviewer: Brian Madden
Reviewed: 27th January 2018
North West End Rating: ★★