There's nothing like a good old fashioned scary story and 'The Book of Darkness and Light' is an unusual concept in these modern times: pure storytelling of ghostly, sometimes horrifying tales, set to an eerie soundtrack of live violin playing. Written and performed by Adam Z Robinson, we hear three chilling tales from The Book of Darkness and Light, the longest and most dramatic one being saved for last.
The violin is played by Ben Styles (who also composed the music) and I found it to be a haunting and appropriate accompaniment to the stories, it seemed to make them more three dimensional and also assisted with increasing the tension and the atmosphere.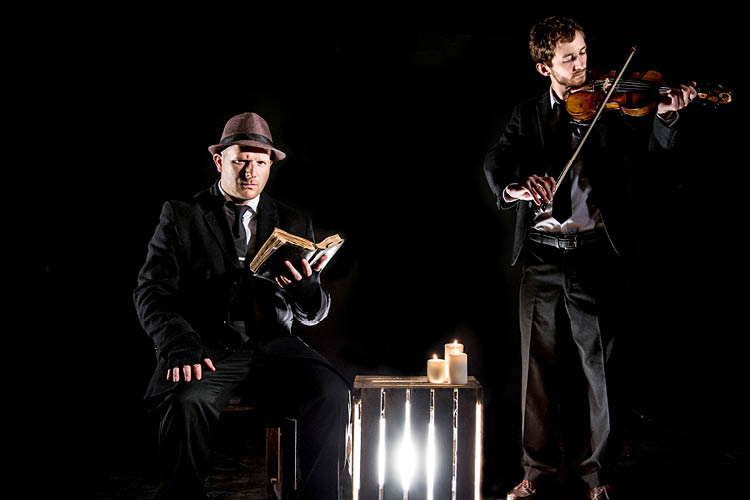 Adam, our storyteller, makes his way down onto the stage from the back of the auditorium carrying a lantern – his slow, heavy footsteps could be heard for some time before it became apparent it was him and this was quite scary in itself and an excellent way to open the show. He speaks to one or two members of the audience on the front row, instantly creating an atmosphere of nervous tension - by asking them if they are nervous.
We are informed that the Book had to be buried due to the nature of its contents and whoever is in possession of it is bound by it to share the stories and create believers. There were a few touches of comedy as he made reference to Sale but this didn't detract from the haunting atmosphere being created. Adam then told us that this was our last chance to leave....needless to say, nobody did.
Adam himself is extremely engaging and you instantly want to hear what he has to say. His acting is superb and his characterisation is excellent – particularly in the final story when we see the character's descent into terrified hysteria which is well paced and horrifying.
This is a stripped back production with minimal props (candles and a chair) but it doesn't scrimp on content or atmosphere in any way. I found the writing to be well judged – it is a fine line between drawing things out too long in the name of creating atmosphere and keeping the audience engaged but I thought it was perfectly crafted. Each story was very descriptive and visual, the vocabulary was evocative and it was instantly immersive. The second story, 'Girl Dancing' was the shortest story and my only slight criticism is that it was a little predictable but it was still enjoyable.
The stories could be (and some have been) performed on the radio but I think they ideally should be performed on stage as you would miss the visual ambience of the shadow-creating lighting, not to mention Adam's facial expressions and physical acting.
This is a thoroughly entertaining way to spend eighty minutes and I really enjoyed the gothic element. I think everyone enjoys listening to scary stories and it's refreshing to see a production which doesn't rely on shocking visual effects to make its point. I very much look forward to the next production: 'Shivers', which is touring later this year.
I'm sure I just felt a cold hand on my shoulder...
Reviewer: Nicky Lambert
Reviewed: 26th January 2018
North West End Rating: ★★★★