The story of Scrooge is one of the high points of Christmas for me and tonight's production of 'A Christmas Carol' by MAP Repertory Company delivered a beautifully wrapped gift of festive fun, ghostly ghouls and Christmas cheer which really put me in the Christmas spirit!
The venue of 53Two Theatre is a perfect setting for this story and helps to create a fabulous atmosphere that is everything you want from this well-loved Dickens' tale. The exposed brick walls and old fashioned standard lamps really add to the genuine feeling of a Victorian Christmas setting.
Director, Simon Naylor, deserves high praise for his imaginative and creative use of a relatively small performance area. The way the props and the space are utilised is nothing short of genius. The audience really became part of the show as the various spirits of Christmas wended their way through and Scrooge himself mingled from time to time. Never before have I seen a bookcase smoothly transform into a bed and then a family dining table!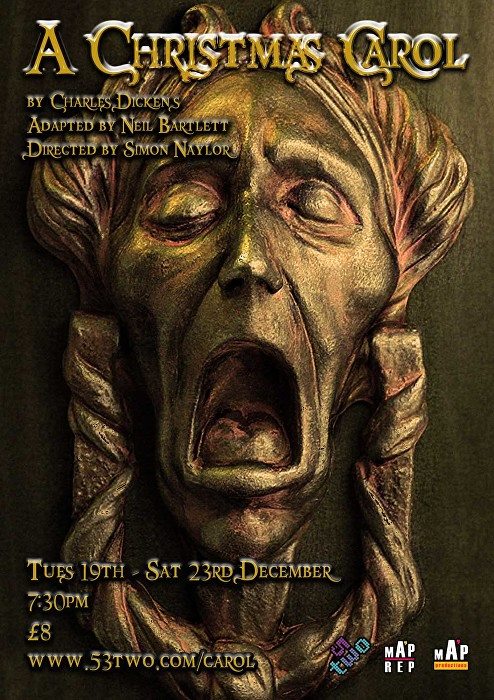 David Howell as Scrooge is wonderful casting. His 'bah humbug' is loud and scary and his Scrooge scowl is second to none! He conveys the miserable and cantankerous character of Ebeneezer Scrooge with real gusto and conviction but also the snivelling, cowardly side to Scrooge when he is told of the impending ghostly visits. I also loved his transition from miser to benefactor at the end – a total character change excellently portrayed. He brings much charisma to the role and is a joy to watch.
This is a small cast of seven (David Howell, Lucy Ross-Elliott, Elizabeth Peace, Simon Hallman, John Tueart, Gemma Brodrick-Bower and Abraham Tiyamiyu), and they each play multiple parts. There were usually four of them on stage as an ensemble at any one time and as a group, they moved and gasped and reacted as one which was really entertaining. Their singing's good too! Everyone moved seamlessly from character to character and they all worked so well together, a fantastic cast for this captivating production.
The use of a puppet to play the part of Tiny Tim is hilarious and so original - he even says grace before Christmas dinner!
The lighting is very effective and together with the background music and singing, creates just the right amount of atmosphere. The singing was quite often subdued so that it didn't drown out the speech and this worked really well.
There are some extremely imaginative yet simple touches in the show (the doorknocker with Marley's face being one) and there is some great humour in there too. The laugh out loud moments for me where when Tiny Tim first appeared and also when Scrooge was polishing his frosted window - very simple little touches which really make this a unique production.
There were quite a few children in tonight's audience who seemed to be loving every minute. There's just the right amount of scariness which isn't too over the top for those younger audience members.
The story is narrated at various points and there is some deliberate missing of cues which really adds to the fun of the evening and does draw the audience in.
Although the running time is just short of an hour, everything you want from 'A Christmas Carol' is in this production. It is imaginative, lively and entertaining – a fresh take on an old classic (with a slight twist at the end) but one which retains all the traditional elements. I congratulate all those involved, you should be very proud.
Don't be a Scrooge! Get down to 53Two before the spirits of Christmas past, present and future take their leave on 23rd December.
Reviewer: Nicky Lambert
Reviewed: 21st December 2017
North West End Rating: ★★★★★