The Swing Commanders are a five-piece band who play songs from the 40s and 50s but put their own unique stamp on them.
That description doesn't do enough justice to their vibrant, energetic, personality-driven performance which is warm, enthusiastic and really quite awe inspiring.
Each member of the band plays at least three instruments and their versatility is clear for all to see but without the slightest hint of showing off. The performers interchange their instruments with slick ease, at times taking over an instrument from another band member.
Fronted by Peter Riley who formed The Swing Commanders, the band have a fantastic repertoire of bluesy, swingy, jazzy songs. There is much interaction with the audience and within minutes of them coming on stage, it really did feel like being in the company of old friends. Peter Riley is a fabulous front man, he chats to the audience with ease and makes humorous quips which just keep coming (one of my favourite being that he introduced "Is You Is Or Is You Ain't My Baby" as a song from The Jeremy Kyle musical!) He speaks in a completely unrehearsed manner which makes it seem very natural.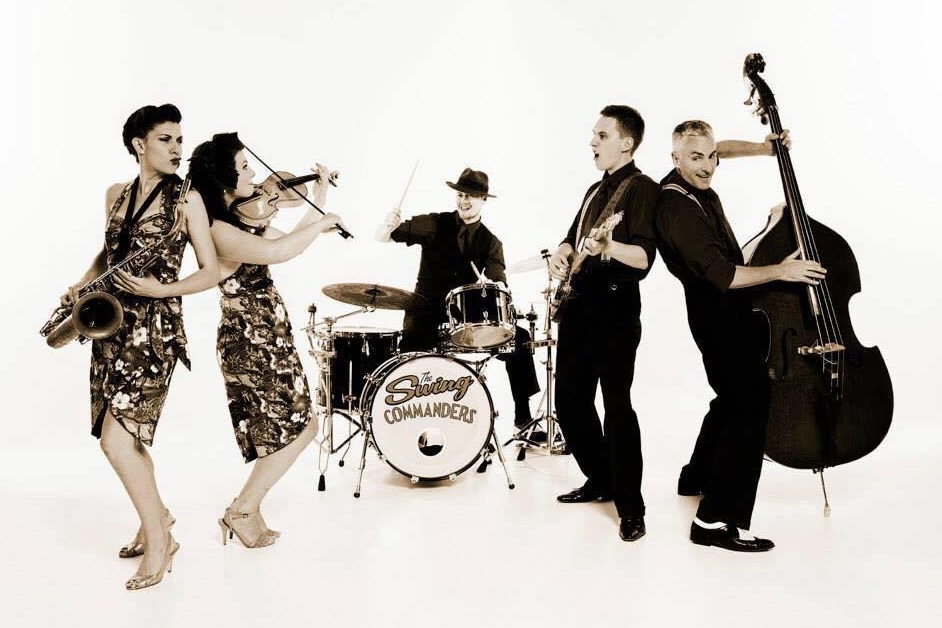 Daisy Thurkettle and Siena Lloyd have jaw dropping musical ability between them. Daisy is a classically trained violinist and Siena plays five instruments, is also responsible for designing the band's CD and DVD covers AND she does all the social networking. It was very refreshing to see female band members who weren't simply there just to provide backing vocals, as is usually the case. Each band member was equally important and the vibe between all of them was that of friends having an absolute ball.
Stuart Smith (drums and percussion) and Dan Smith (electric guitar) were the quieter members of the band but still oozing with talent.
I must mention Peter Riley's smile. It is perhaps one of the cheekiest smiles I have ever seen and I found myself waiting to see it appear! He quite often directed it towards his double bass - I actually think he may be in love with it.
The arrangements are all unique to The Swing Commanders - courtesy of Siena who is also the Musical Director - and they all really work without taking anything away from the original.
Artful Voices, a local choir, opened part 2 by singing three songs, conducted by Siena. This was a large choir of approximately 50 members and they performed excellently - I particularly liked the James Bond medley which was skilfully arranged and performed.
The music just kept on coming tonight - in Peter's words: "it's relentless, isn't it?" With eleven songs in the first half plus another ten in the second half (one of which was a very enjoyable medley), the Swing Commanders gave it their all but didn't look as if they'd even broken a sweat.
This band is instantly likeable and if you aren't tapping your feet within ten seconds of hearing them, there's something wrong with you. They instantly immerse you into the vibrancy and joy of their performance and their mastery of each instrument. Just watching them enjoy themselves is entertainment in itself.
For the final two songs, Artful Voices joined the band on stage and the performance of "I Wanna Be Like You" was absolutely inspired. The final song - 'Minnie The Moocher' saw Peter relinquish the double bass and foray into the audience - sans microphone - and encouraged us all to join in. He also showcased the fact that he is, indeed, The King of the (hip) Swingers.
Tonight was an evening of fun, amazing talent, fantastic music, oodles of personality and a great atmosphere, all tied up in a vintage polka dot bow. Thank you, Swing Commanders.
Reviewer: Nicky Lambert
Reviewed: 7th July 2017
North West End Star Rating: ★★★★★