Theatre always has and always will be a magical experience which fills you with passion, excitement and emotion and it's so important that a younger audience don't miss out and experience something which is live in front of you, and not on a 5 inch touch screen.
A wonderfully heart-warming story which is a perfect first theatre experience for younger ones is the recently adapted David Walliams bestselling book; Gangsta Granny
Currently on tour around the UK, Gangsta Granny tells the story of 11 year old Grandson Ben played by Ashley Cousins who has to stay at his 'boring' Grannies house and isn't looking forward to it one bit but once there discovers a whole other side of her as he's taken on an adventure he never expected and learns a lot about his so called 'boring' granny.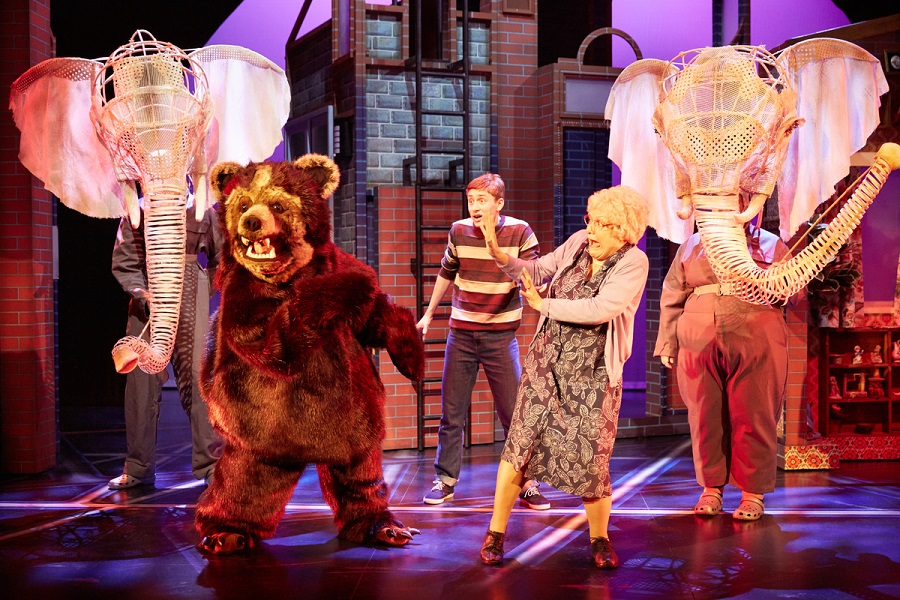 The cast are crucial in getting the audience to be fully emerged into the story, I looked around as hundreds of little ones were glued to the stage as the capers unfolded, Louise Bailey plays the Granny and paired with Cousins as 'Ben' it's a perfect match as they bounce off each other with so much energy and vigour throughout the night, Cousins is first rate as Ben and comes across approachable to the audience and therefore making them feel immediately at ease, the laughs come thick and fast from The neighbourhood watch character; Mr Parker played by Ben Martin who knew just how to get the audience giggling with spot on timings and delivery and from Davesh Kilgore who was an inspired choice as the shopkeeper and later as a Dancer,
The story is heart-warming and makes you stop to think how we treat our older generations, and as the show goes on, you get more and more hooked into the story. For the plot, it may seem abut thin at first but it develops nicely and keeps the younger audience hooked right up until the very end.
The staging and lighting is better than one would expect from a touring production and is full of moving parts and shows off the magic of the theatrical experience.
Gangsta Granny is a marvellous night at the theatre for both young and old which is full of laughs and emotion from start to finish, thoroughly enjoyed it and so did the rest of the audience who were up dancing in the aisles at the end, catch it while you can.
Verdict: Pass me the Cabbage Soup, I'm staying at Grannies.
Reviewer: Max Eden
Reviewed: 7th June 2017
North West End Rating: ★★★★