Welcome once again to a thoroughly Manchester theatrical institution. Now no longer at the venue the title suggests, but at what is perhaps Manchester's newest and most vibrant Fringe theatre, 53TWO.
As always, writers who are primarily known for their screen or TV scripts are asked to write a play no longer than 20 minutes duration which can be performed with minimal props, costumes and technical gubbins; directors and actors are then brought in and after sometimes a very brief rehearsal period perform these scripts back to back. 6 plays in one evening.
This evening was no exception, and we were treated to some truly excellent miniature pieces of theatre. In the first half we were treated to scripts from Helen Farrell, James Quinn and Peter Kerry; whilst the second half saw the works of Ian Kershaw, Nick Ahad and Dave Simpson take the spotlight.
There was a very eclectic mix of writing styles, and a good balance between the more serious and the highly comedic. Not a weak script among them, and all had a superb 'tag line'; something which I feel, for a play of this length and purpose, is absolutely necessary. Obviously I personally liked some more than others - that is the way it is - but all were deserving of praise.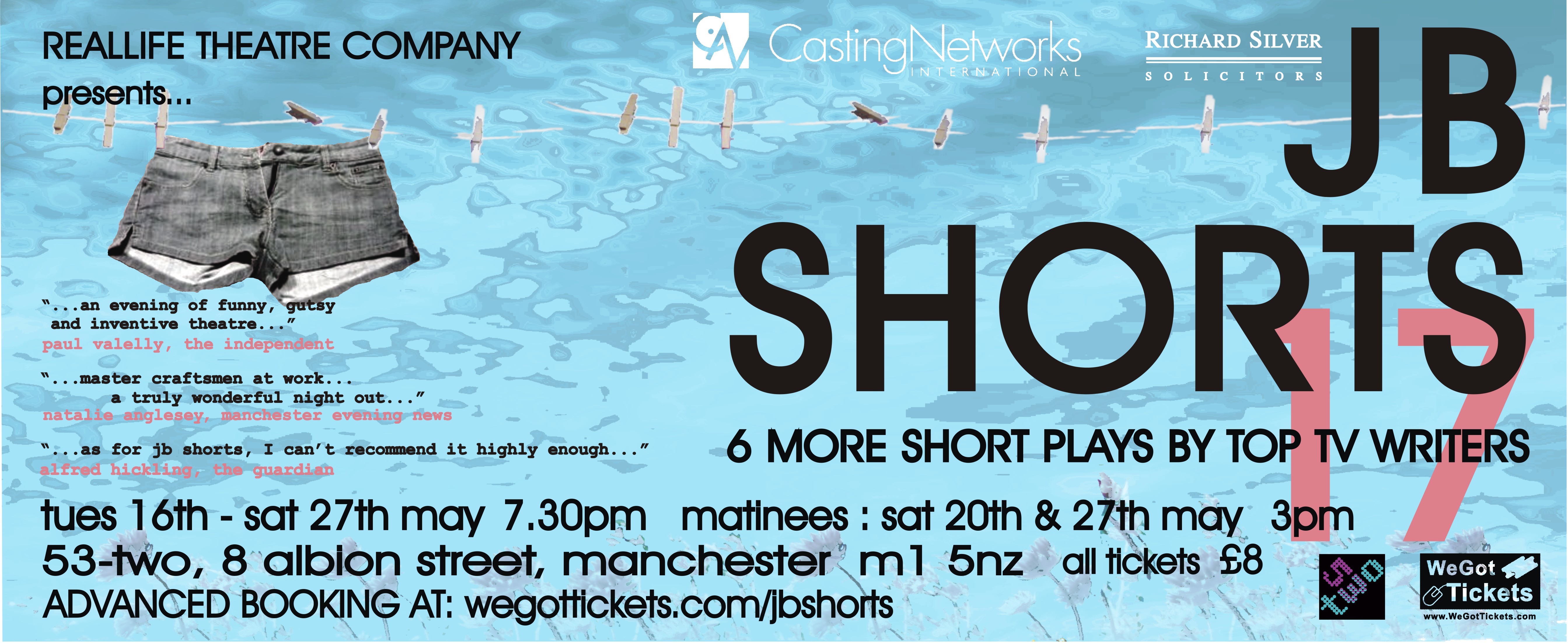 Such is the subjectivity of theatre, then some directing styles and acting styles are going to be more pleasing to me than others; and as much as anyone tries to be totally objective and neutral this is never going to happen. Let me therefore say that I liked and appreciated all 6 plays on offer this evening; but I would like to highlight just a couple which, for me, pleased me the most.
The first of these was the last play of the evening, 'Pot Plant', directed by Alice Bartlett. It was the tightest script, one of the best directed, and most truthfully acted of the evening. It had everything - humour, kindness, truth, politics, tragedy, despair, pathos, and a whole lot more thrown in too. In a nutshell, it told the story of an elderly couple, one with Parkinsons and the other with arthritis, who find a miraculous cure for their ailments, marijuana. They start supplying it to others in need of help too - all for medicinal and curative purposes - that is, until the police arrive, send them to court, and they have to go back to being cripples once again. Jenny Gregson and Stephen Aintree were superb in these two roles, and Simon Naylor brought a needed change of dynamic and a little comedy to the proceedings. Superb.
Other highlights included 'Pretty Pimpin''. I really enjoyed the storyline and ethics involved; and James Quinn gave a very truthful performance as Richard. On the other end of the scale completely, then the play to start the second act probably garnered the largest applause. This was 'Keep Breathing', a hilarious, but also very serious (as indeed the best comedies usually are) look at the life of a middle aged fitness instructress. Again the directing here was tight and superb. Every nuance of the writing being played to its full potential and the lady given the task of doing this, and playing it for all its worth was Amy Drake. A truly powerful comedy performer who worked the audience brilliantly and gave a stunningly real and relatable performance.
A fantastic evening out, watching some of the best writing, directing and acting talent to be found in Greater Manchester.
Reviewer: Mark Dee
Reviewed: 17th May 2017