Manchester-based Box Of Tricks, a company that champions new writing and loves things which challenge and don't necessarily follow the norm have once again found a winning formula.
In this play by Lizzie Nunnery, and directed by Hannah Tyrell-Pinder, we, the audience, are asked to suspend our disbelief rather more than usual. It is a play which requires your undivided concentration; for it is slow-moving, thoughtful and perhaps a little confusing, but stay with it, for it is also deeply emotive, horrific and genuine.
We are given a set, designed by Katie Scott, which is a compact and claustrophobic entanglement of pipes, metal grids and such. Combined with some superb and effective mood lighting by Richard Owen, this small space in the centre of HOME's Theatre 2 became the actors' playground and through some superb acting and solid directing, also the audience's.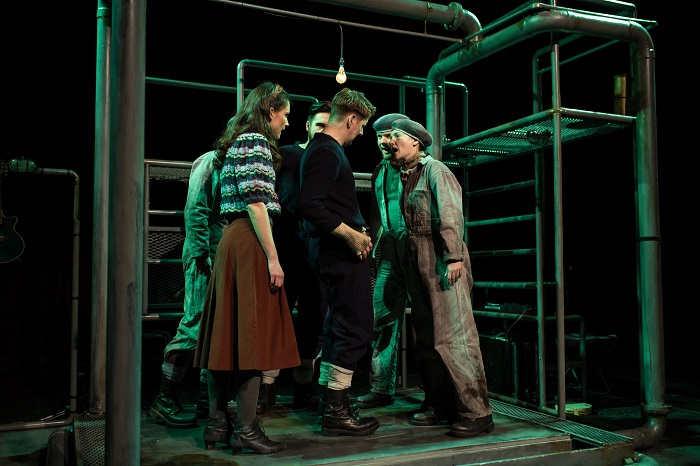 In a nutshell, the story starts off with the premise; does your life really flash by you moments before you die? We are shown an elderly man slip and fall in his own home in Liverpool and as he takes his last few breaths the memories of his past come from out of the shadows and play out before us. His time working on a trawler as a young man and finding love with a young Norwegian lady. then war breaks out and he is in the Navy working a s radio officer plying between Oslo and Archangelsk. [Narvik is a small town and port in Northern Norway]. Memories of his dad (either real or imagined) come flooding back, as does his friendship with fellow radio operator Kenny. The whole play has a very 'Noir' feel to it, and is very much in the mode of contemporary European cinema - very moody but little action.
The play is aided all the way through by three ghosts who sing and play instruments at key moments in the plot. With use of both electric and acoustic real instruments, combined with percussion beats on the set itself, these pieces of music intertwine and weave around the story and become the story very cleverly. These musicians were Vidar Norheim, Maz O'Connor and Joe Hirons.
The protagonist of the story, Jim Callaghan, was played with superb ease as he switched from young mariner to dying old man both physically and vocally with effortless skill, by Joe Shipman. His equally talented co-star in this play was Nina Yndis who played his Norwegian love, Else, and also a young Russian girl Lucya. Their relationship switching between relaxed easiness to tense coldness was superbly measured. Lucas Smith made up the trio, playing Jim's best friend during wartime, Kenny. Again bringing out both sides of this explosive friendship to perfection.
I should also note that both the Norwegian and the Russian spoken in the play was absolutely spot on too!
A very clever and well-crafted play which demands that the audience are attentive, but if you are, the rewards are great. The play is at HOME before embarking (a very nautical and therefore fitting word) on a national tour.
Reviewer: Mark Dee
Reviewed: 1st February 2017
North West End Rating: ★★★★
Picture:Decoy Media