Immersion Theatre Company came to Sale's canalside theatre for one day only as part of their whistle-stop tour of the only surviving play of R.C. Sherriff, 'Journey's End'.
The play is undoubtedly semi-autobiographical and draws on his own experiences in the trenches during the first world war. It is a very moving play, but full of humanity and was the first play of its kind to show the reality and futility of war.
Immersion Theatre Company, under the direction of James Tobias, found in this story of the strength of the human spirit, much humour and comradeship and played the story with gravitas and reality. It was a truly moving experience, and I defy anyone to watch this production stone-faced and not to be moved by it. It was simple, heart-wrenching, and above all, real.
What I enjoyed most about this production was the effectiveness of telling the story through the age old theatrical maxim of Less Is More. The set was practical and effective, a simple set of flats and steps ideal for a touring production with quick get-in and get-outs, and yet, it was extremely effective and looked authentic. The same goes for the props and costumes. Care and attention to detail had been observed, and yet there was nothing extraneous, it was all necessary and added, and was all correct.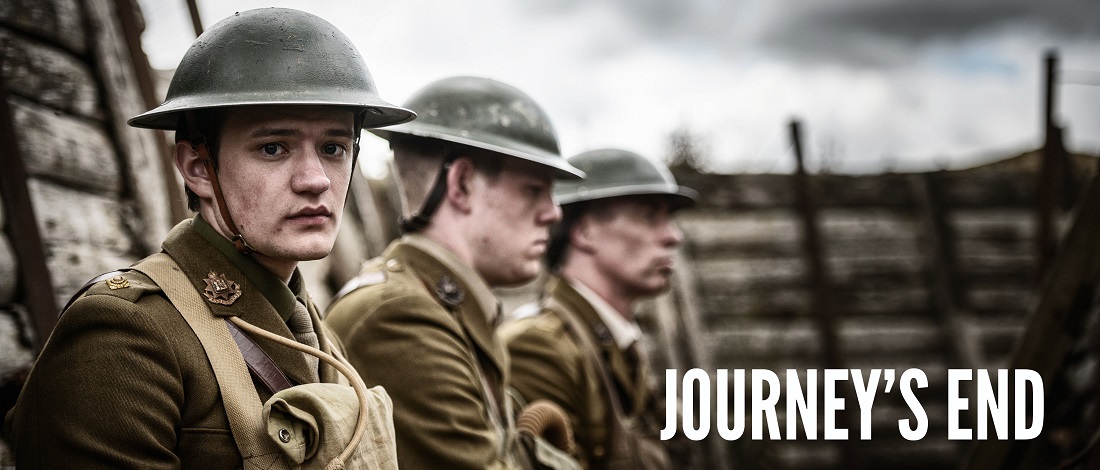 The lighting, the sound of artillery fire, and the subtle use of smoke (even before the play started and continuing during the interval) was excellently done and added greatly to the overall effect.
And the acting was, just like the rest of the production, no frills acting, which suited this play absolutely. All the cast were superb, and their individual characters and their camaraderie highlighted to perfection. I have seen this play at least twice before, and it has never moved me the way it did today. And as a measure of this performance's brilliance, this was a 12:30pm matinee which lasted a full three hours (including interval) and the audience was predominantly school groups [the play is on this year's A level syllabus]. There was not a single rustle of sweet wrapper, nor a shuffle nor a cough the entire time.
Matt Ray Brown played Osbourne; Rory Fairburn was Raleigh; Tom Grace, Stanhope; John Rayment, Trotter, and Alexander Toll, Hibbert. The commissioned officers billeted together in C Company dug-out. The part of Mason, the officer's cook, played here by Ashley Cavender cannot be overlooked either. A 'ghost' role in the sense that it is often overlooked and unseen, however Cavender's interpretation was spot on, even finding some humour in there too.
The play is hard going at the best of times; it's not a Sunday stroll in the park. It's heavy, hard-hitting and realistic. This production brought out every nuance and made the play accessible and relevant, and for this they deserve the highest of praise.
Reviewer: Mark Dee
Reviewed: 2nd November 2016
North West End Rating: ★★★★