Normally the noise of rustling wrappers at the theatre would cause outrage, yet there's something very special about the sound of the audience at the Other Palace collectively opening their Walnut Whips…
The stage-adaptation of his autobiography, Toast, reflects on Nigel Slater's familiar 60s/70s childhood. Slater, portrayed by Giles Cooper, has been cookery writer for The Observer for 25 years and his relationship with food is at the heart of this production. Young Nigel's greatest joy is to be in the kitchen, reading Marguerite Patten's Cookery in Colour, stuffing his face with sweets and most of all, baking alongside his mother (Lizzie Muncey). But when tragedy strikes, he must continue to prove and rise through difficulty and discovery alone using the tastes and memories she leaves.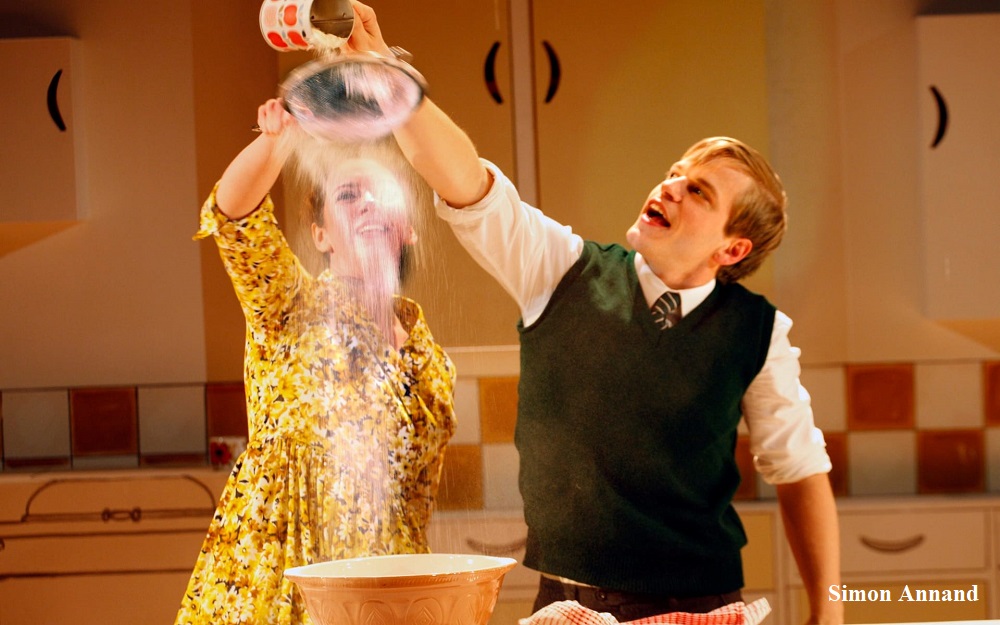 Cooper offers a great portrayal of 9-year-old Slater, enthusiastically narrating the production throughout. He warmly conveys a child's innocence and curiosity for life and has an attentive dynamic on stage with Muncey. However, perhaps reflective of the interestingly advanced vocabulary for a young boy, Cooper's occasional tripping of lines breaks the intended cocky-schoolboy persona.
Muncey's presence on stage is fantastic, charmingly pottering around the tiles of Libby Watson's bright, retro set. There is a familiarity to Muncey and father's (Stephen Ventura) approaches to both parenting and cooking that are brilliant sources of comedy. Ventura's performance is appropriately distanced to Cooper yet still tentatively pulls on chords of sadness and joy.
Henry Filloux-Bennett's adaptation is a story as sweet as the penny sweets that are passed through the theatre. Yet, though this play is touching, it often fails to meet its perfectly-baked potential. On some occasions, the tragic chords aren't served in their needed measurements, but more like a Victoria sponge that is missing the jam.
Toast is a nostalgic production that is comical and touchingly tasty. This coming-of-age tale of loss and discovery doesn't just remind us how essential food is for life but is a reminder of the essentiality of food in all parts of life.
Reviewer: Jessica Battison
Reviewed: 9th April 2019
North West End Rating: ★★★★