WOW, WOW, WOW… What a show! I could only express the importance of being in that audience last night at the Tara Theatre. The show is only showing there until the 16th of March so don't miss your chance to catch the 'Two Gents' in their fabulous action.
The Importance of Being Ernest is a play written by Oscar Wilde in 1895 which is predominantly a trivial comedy for serious people. The play focuses around late Victorian London and tells the story of social class and fraud between friends and family which leads to one of the protagonist characters finding out his true roots and whom he is truly related to. Along the way, we intertwine the story with many miniature romances which get confused throughout due to the name 'Ernest'. Some of the relationships include that of Jack (Ernest) Worthing and Gwendolen Fairfax, Algenon (Ernest) Moncrieff and Cecily Cardew and later in the story Miss Prism and Doctor Chasuble. The story is a laugh out loud comedy which has a lot of audience involvement and, in this particular instance, has two amazingly talented young women playing all of the roles within a small space and with limited set/ props.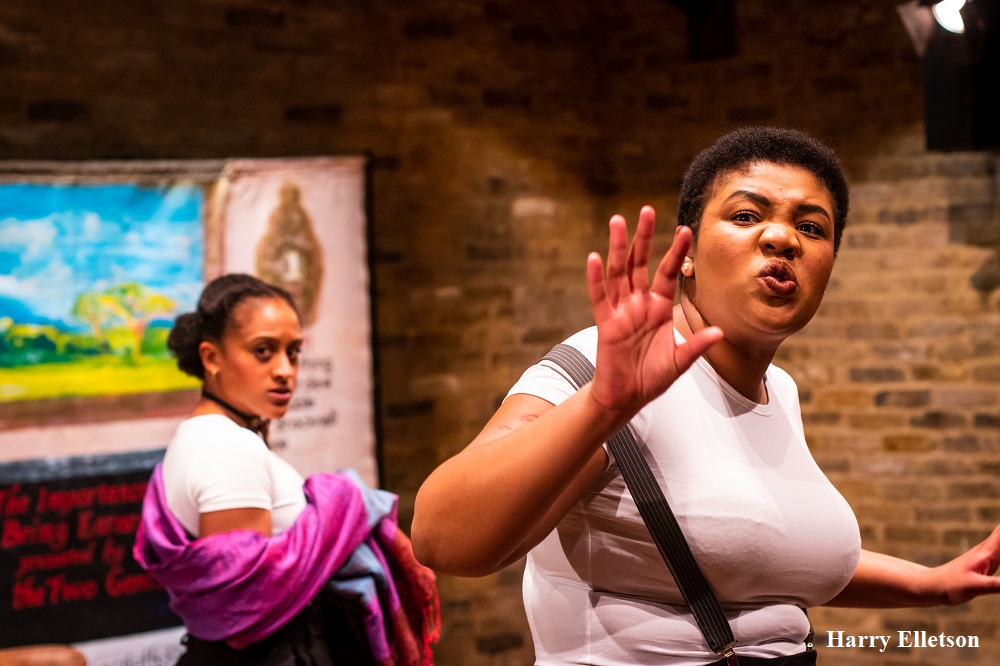 These two women really knew how to put on a show! From the word go they knew how to speak to their audience and how to present themselves. The comedic element was embedded in from the very beginning as, as soon as the pair walked through the door and began setting up their space to perform in they began with the tall/ small humorist banter they shared between them.
On this performance, I was seated quite front and central which allowed me to observe but not be too close to the actors when they performed. This meant that I could see everything they planned to show us and could see every angle they stood at. Being quite a small theatre anyway, all members of the audience could indulge in the performance on a personal level and could be close enough to the stage to see everything that was happening.
I personally enjoyed their use of the audience throughout as they really allowed you to feel like you weren't just watching a play and that you were in fact part of it. They gave out certain roles at times due to there being around 9/10 characters and there only being 2 of them with 3 fun filled acts in which they all knew the entire libretto of. I can honestly say that this was extremely impressive to me as I know personally how hard it can be to learn one person's lines in a show never mind doing the entire cast of the show. In this performance, Ayesha Casely-Hayford took on the roles of Algenon, Gwendolen, Miss Prism and Merriman as well as sometimes slipping into Lady Bracknell. Kudzanayi Chiwawa, on the other hand, took on the roles of Lane, Jack, Cecily and the Reverend Canon Chausuble (Doctor) as well as Lady Bracknell.
Both women did an amazing job at switching between the characters so that it kept the story going. They did however use humour with the audience and almost let us in on their struggle they faced changing between the characters constantly. As, I have said before, they allowed some of the audience to get in on the action and brought us up onto stage and made us slightly improvise which I found hilariously funny and loved the uniqueness of this. Not many plays can be altered in such a way that the entire audience can be told the story and can keep up with the story as well as be thoroughly entertained by the cast members and can speak within the performance with them to feel included and add their own thoughts on what is going on.
Also, I really enjoyed that fact that they allowed you to drop in and out of reality within the performance as they has small but useful intervals where they would play modern music, take a drink of water and ask us weather or not we were following the story line and if they were making sense throughout their changing characters and constant line switching.
Overall, I thoroughly enjoyed the show and am very glad I was given a chance to see this amazing performance by these two amazing actresses. I would not recommend missing this amazing show if I were you and would book your tickets fast!
Thank you also to the Tara Theatre for your amazing hospitality. I cannot wait for my next invite! https://www.tara-arts.com/whats-on/the-importance-of-being-earnest
Reviewer: Meghan Smith
Reviewed: 25th February 2019
North West End Rating: ★★★★★