When it comes to fringe, there's fringe and then there's FRINGE. 'Scream Phone' is FRINGE with a full-on caps lock! The show is awesome, no scrap that, this show is mega-flipping-too-hot-to-handle-awesome. This is spoof horror meets comedy musical in an 80s mash-up like you've never seen before – and everybody, everybody deserves to see, hear and experience the sheer talent on stage that can be found in the cast of Swipe Right Theatre, directed by Tom Parry.
So, the story goes it's a girlie sleepover, American style, and true to formulaic form you've got the stereotypical girls who play they're stereotypical roles with more pizzaz than anybody knows what to do with. Melody's mom has bought them a game to play – a 'Dream Phone' that will call and they have to guess which boy fancies them. But Sally, a cast out member of the Beaver Babes, is the caller and her clues take us through the girls fleeting meets of that day – and the boy who has a crush on one of them – but who?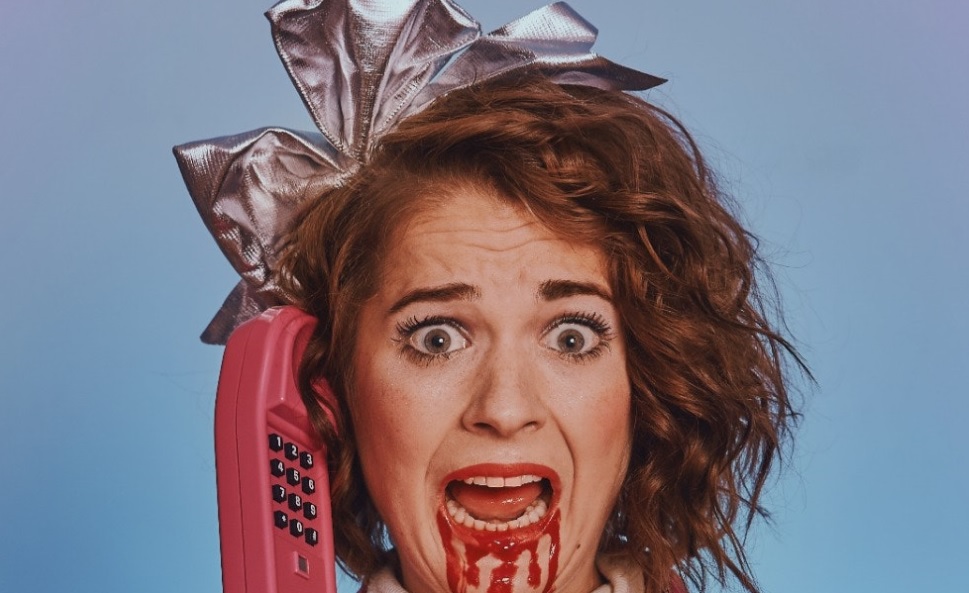 Set clearly in the 80s, this production has more throwbacks than you can shake a headband at – and it does it with such obvious glee and panache the production is taken to the next level. This is scripting and storytelling of such professionalism and wit I can barely believe this show is on such a short run. It deserves more, so much more. From the devilishly delicious soundtrack (God, I want to buy the album), to the acting, to the sheer mock-horror and spoof send-ups this show was everything and more any audience could ever hope to see. There were so many absolutely standout moments, but if I had to pick one, Stacey's rendition of her meeting with the boy in library set to Whitney Houston's 'One Moment in Time' is it – what a song, what a girl, what a story!
From the opening line to the final applause this show had me transfixed – my face still hurts from all the smiles and laughter. This fantastic trio deserve such big, BIG things and I really can't wait to see them again in a longer run. This is a show that won't just tickle and tantalise, it's an absolute thrilling treat and I'm totally blown away by their brilliance.
Reviewer: Samantha Collett
Reviewed: 21st February 2019
North West End Rating: ★★★★★