Alcoholism is always a challenging topic to address, not least when it involves clearing out your late father's flat and learning about his life through his hooker and listening to the increasingly desperate answer machine messages from your mum, who you haven't told yet…despite it being three days.
This is the task that Ed (Ed Coleman) and his friend Sarah (Gabrielle Fernie) have to undertake when they travel to his late father's bedsit to clear away his belongings from his rented flat.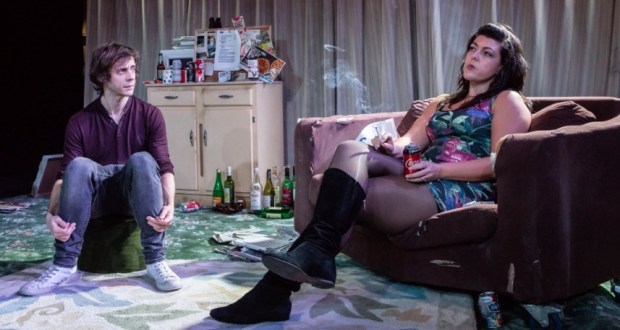 But how do you get rid of the artefacts of a life – what's important? What does anything really matter now?
At times poignant and darkly humorous, the play touches on the memories we make and those we leave behind, the people and the relationships that have forged our lives and our meaning. But, in the end what does it all mean? How much do we choose the life we live and what is our legacy? How do we want to be remembered, and more importantly: How do we want to live, now?
'Leave a Message' is ambitious in scope and the themes it addresses; however, its treatment is a difficult mix between comedy and serious insight which it doesn't quite pull off for this to work as strongly as it could do. A play with potential. https://vaultfestival.com/whats-on/leave-a-message/
Reviewer: Samantha Collett
Reviewed: 20th February 2019
North West End Rating: ★★