Medea Electronica is billed as "drama played out amidst the brilliant chaos of a live gig" but it is so very much more than that!!
A contemporary re-working of Euripides' Greek tragedy, Medea Electronica is a fusion of theatre; musical; 80's inspired progressive rock and jazz all rolled up into a mind-blowing narrative of the mental and moral decline of one tortured woman, Medea (Mella Faye). Following the discovery of her husband's grand scale deceit and betrayal, Medea is forced to take a journey for which she was unprepared that ends in grizzly tragedy and violence. They say that "hell hath no fury like a woman scorned", be prepared to have your mind blown because in this production, "the monsters are coming…!"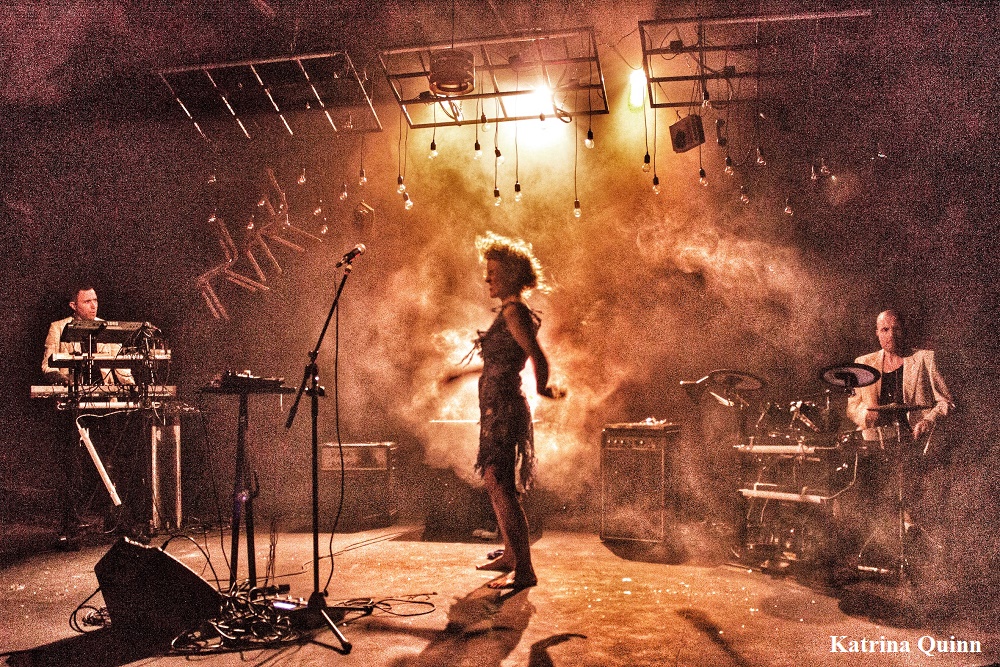 The theatrical execution of this production is sublime. Every note, lyric and spoken word is there to create a response in the audience. Nothing appears out of place. Pecho Mama have crafted a play that takes your emotions by the throat and forces you to hold your breath. It is intensely visceral with some scenes leaving you feeling uncomfortable, but you will be unable to look away. It is dark, and it is a true glimpse into the games that adults play and the lengths to which a Mother will go to protect her children.
The musical score provided by three-piece band Pecho Mama is world class with inspiration from so many synth bands across multiple decades. Some deeply haunting and beautiful songs are presented across the production that would be equally acceptable playing at home on your mp3 player as sat in the theatre. Mella Faye is an accomplished; awe-inspiring, talented solo vocalist and performer. She has a level of musicality and theatrical control that exceeds that usually seen on the stage and is backed by two incredibly talented musicians: Alex Stanford on Keys and Sam Cox on drums with a supporting unseen vocal cast of six. The sound is enhanced and complemented by a bold and colourful lighting and set design (Jack Weir and Mella Faye) that served the audience at every opportunity to join Medea on her trance-like decline into the depths of destruction.
Medea Electronica is cutting edge theatre. It will leave you going home questioning your own reactions to the content and the character, but you will want to watch again! It is showing atPleasance Theatre (Islington) until February 24th when it continues its international tour. There is nothing similar out there and one not to be missed.
Reviewer: Alan Stuart Malin
Reviewed: 19th February 2019
North West End Rating: ★★★★★