IMAGINE the most life affirming modern jukebox musical the West End has even seen; opulent sets and decadent costumes; extravagant dance routines; dramatic key changes… IMAGINE 12 Olivier Awards and a 5-star Guardian review… IMAGINE 2019's Hamilton!!!
It's good that you brought your imagination because this is the "West End of the East End of London" and you're just going to have to pretend…
As solo performer and creator Paul (O'Donnell) puts away his carefully folded "marketing copy" you realise that this is no ordinary musical. This is in fact the almost entirely imagined Bon Jovi Musical!!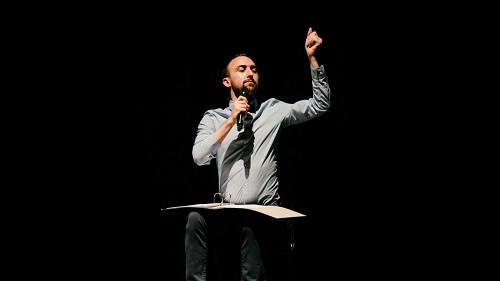 Let's be clear, this is a work of pure theatrical genius. A clever deconstruction of everything that makes a West End musical a hit but presented on a virtually empty stage by just one man with a red folder and an IKEA spot lamp. Sat on a wooden chair, O'Donnell energetically narrates the imagined musical, delivering scene by scene, character by character and every detail of the imagined choreography from world famous Bruno Tonioli with near perfect coming timing. Then just when you think it can't get any camper… Confetti Canons (imagined of course)!!
O'Donnell describes himself as "what we call in the industry, a trip threat" and isn't he just that. An exceptionally talented performer that has the entire Vault Festival audience rolling around with contagious laughter. This is a must-see, joyous performance for all musical theatre fans and those who happen to just love to be entertained. A complete master class in how to bring an audience to its feet. This is one not to be missed.
We've Got Each Other is presented as part of the Vault Festival 2019 and runs until 10th February 2019. https://vaultfestival.com/whats-on/weve-got-each-other/
Reviewer: Alan Stuart Malin
Reviewed: 6th February 2019
North West End Rating: ★★★★★