Unlike a trip to any other beauty salon, Pamela's Palace guarantees a night of total hilarity. Fresh from the Edinburgh Fringe, this interactive comedy tells the bitter-sweet story of three very different women in exploration of vulnerability, friendship and an ever-changing society.
Owner of Pamela's Palace, Pamela (played by the show's creator, Donna Gray), is awaiting the arrival of a mystery judge on the day of the Salon of the Year competition's final. Her assistants, Tiffany (Katie Grace Cooper) and Bronwyn (Ayesha Tansey), greet clients- picked from the audience- and share their stories. The pair encourage their boss to move on from her out-dated style and update the salon as well as herself, all whilst audience members are seated at salon chairs fearing for their hair.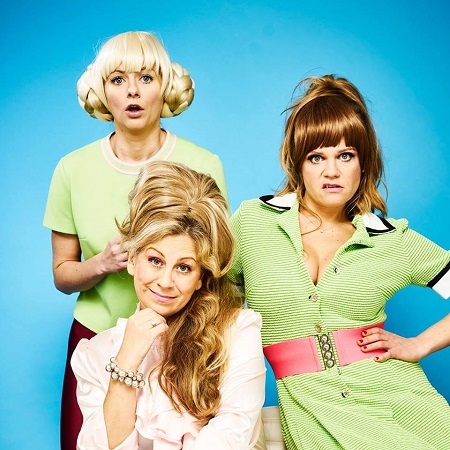 Directed by Mella Faye, the play is energetic and vibrant, a fast-paced production that works with audience involvement impressively. Those chosen (or forced) to take part are not picked on, but rather work as an enabling factor to the action. Tansey's nervousness and Gray's boisterousness coincide wonderfully to interact with clients in a hilariously awkward manner.
Cooper is a marvel and a powerhouse bursting at the seams with comedy; the consistently high level of energy thrusted into her role enabling a bold and vibrant character with many layers. Her story-telling abilities create many highlights of the show and her execution of character works as a comical complementation to the other powerful two.
The trio of women are masters of awkward silence, treating it as a fine art and playing the audience of Camden's intimate Etcetera Theatre perfectly. Many other moments of comedy are routed in the fantastic formation of dance routines, as each character's personalities shine explicitly and lead to tear-jerking humour.
Even the unplanned features of the evening seem to pan out seamlessly and the production works on a high almost all the way through. Pamela's Palace is preparing to take its mags, gags and music global, heading to Australia's Adelaide Fringe in March. It can be guaranteed that all audiences of the salon will be given treatments of belly-laughs, physical comedy and fantastic facials.
Reviewer: Jessica Battison
Reviewed: 24th January 2019
North West End Rating: ★★★★