Gur Arie Piepskovitz is an actor, director and artist whose work blurs the boundaries between theatre, performance art and cabaret by using meta-theatrical elements such as self-irony, role playing and intertwining narratives. His work has been showcased in Greece, at Edinburgh Fringe and now Camden People's Theatre.
Piepskovitz's Re-Visions is a satirical, meta-theatrical play within a play. Storyline - A Director decides to recreate the party that his Jewish great-aunt threw the night before WW2. Obsessed with capturing the reality of a situation he was not present for, he eventually loses sight and control over the piece and his dysfunctional cast begin to derail and override the entire project. Re-Visions explores what happens when five very different, yet equally dominant personas come together to fight for their ideas to be heard and taken to the stage.
As you entered the space, the set was simple. The stage had a collection of household items which doubled up in use e.g a step ladder also used as a shelf, and various handheld props were incorporated in by the actors throughout. Maya Felixbrodt's choice of musical accompaniment towards the start of the performance was eerie, yet fit the uncertainty of the scene well.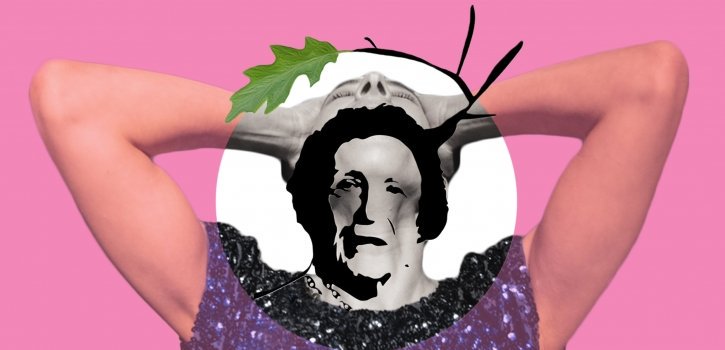 Lara Buffards costume design proved successful with the actors wearing Brechtian style white t-shirts with bold black lettering stating exactly who they were. This allowed us as the audience to clearly remember who was who and stripped back any potential over complication with costume to allow the actors to move freely and for their acting to remain a priority. The statement t-shirts were teamed with dark coloured trousers or skirts and black smart shoes, trainers or boots for a smart casual yet stripped back look.
As well as being the actual writer and director, Piepskovitz also played the Director within the piece. His portrayal of this character was slightly pretentious and emotionally unstable and worked well amongst the other characters. Desperate to please, the Director was willing to allow almost anything and use every real life argument and confrontation as material and "art" for his piece, however weird and unnecessary. Piepskovitz successfully portrayed the various emotions the Director struggled to contain. The Assistant Director played by Avihaud Tidhar was overlooked, unappreciated and often taken advantage of. Tidhar played this character with such truth and naturalism you automatically related to his exasperation and attempts to regain control. Although often the quietest of the cast, it was easy to watch Tidhar and his subtle nuances even when there was absolute chaos on stage. The relationship between the Director and Assistant Director was an intriguing one and proved truthful and refreshing amongst the intertwining storylines. The relationship could have benefitted with further exploration if the piece was lengthened.
Dami Adeyeye played the young Actor obviously new to the industry and struggling to keep up with the drama and complexities of theatre. Adeyeye's performance was lighthearted with comedic elements however, there were times when he seemed unfocused and lines were delivered as statements instead of coming from a place of truth. Nonetheless, his chemistry with the Actress (Maya Goldstein) was electric and their scenes together strengthened and elevated Adeyeye. Goldsteins take on the Actress was played with confidence and depth, it was clear that she caused the most issues within the cast through constantly treating everything as a joke, her flirtatious and hands on relationship with the Actor and her consistent and quite horrible bullying of Thespian (Bernard O'Sullivan). With her quick wit and sharp tongue, Goldstein conveyed her character with gusto and was at times mesmerizing through her emotional depth.
O'Sullivan's portrayal of sarcastic and absolute drama queen Thespian was believable and hilarious throughout. With back to back one lines, O'Sullivans performance was nothingshort of versatile, bold and a scarily accurate representation of the kind of personas you will find in this industry.
Re-Visions successfully captures the struggles directors may go through when trying to execute their ideas with an overly opinionated and demanding cast. On the most part, it was clear to see where the storyline was headed, however at times it felt as though the piece lost clarity and the exploration into role playing took an odd and unnecessary turn. However, considering the basis of the piece was a play within a play, it is possible that every questionable aspect may have been deliberate and directed in such a way to enhance lack of control the director had on his own show. At times it was difficult to tell which play had lost its direction.
Reviewer: Tamara Smith
Reviewed: 17th January 2019
North West End Rating: ★★★