Following 2017's sell out run of Isolated Incident , Dance Attic Studios introduces its current in-house production, Going Ape! . Written by Andrew Corbet Bucher and directed by Evan Ensign (Avenue Q , Shrek: The musical , RENT , Phantom of the Opera , Elf: The musical ), the production boasts a multi-ethnic cast as it challenges both science and religion in a clash of theories.
Upon entering the performance space, the set mimics that of a primitive woodland. Plants, bushes, cave drawings, rocks and logs litter the stage. Partnered with the natural wooden floor of the space, it feels like being thrown into the middle of the woods. It is important to add that the choice of venue for this production was equally appropriate. In addition to the well thought out set, the stage size was perfect and the seating provided enough leg room and width for people of all heights and sizes.
Going Ape!'s central characters consisted of the Bible's very own Adam, Eve, Cain and Seth (with consistent mentions of Abel), along with additions Genevieve 'Jenny' and Lucy. In a showdown between the Christian belief that God created earth and man, and scientist's beliefs that humans evolved from apes in the form of Australopithecines - Going Ape! is set 300 years after Adam and Eve's expulsion from the Garden of Eden, and explores what happens when science meets religion as Cain ends up bringing home Lucy, a result of evolution, he has met in Africa.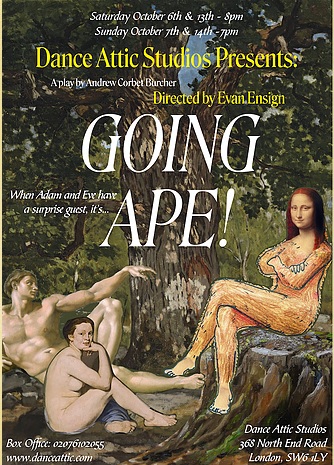 Although in a twist of events, after evolving, Lucy ends up being more developed than the rest of them and decides to put on a show.
Whilst waiting for eldest son Cain (Jon Robyns) to arrive, the audience gain the opportunity to witness the relationship between Adam, played by Delroy Atkinson, and Jacqui Sanchez as Eve. Atkinson's take on Adam is laid back and "laddy", as he sports a white grubby vest, cropped tracksuit bottoms and black crocs. Adam is a simple soul who would possibly be considered as an 'East End working class' stereotype you'd find at the pub - if he existed in modern times. Complementing Atkinson, Sanchez's portrayal of Eve is common and "flappy", sporting a red velour tracksuit and pink slippers, her take on Eve belongs on a council estate. For the most part the chemistry between Atkinson and Sanchez makes it is easy to see how Adam and Eve were once blissfully in love. This traditional yet modern take on Adam and Eve works and allows a 2018 audience to potentially relate more.
Robyn's camp and pretentious Cain, makes a big impact on the cast and provides yet more diversity in character types through his juxtaposing personality, which proves humorous throughout. Fitting the upper/middle class bracket and sporting a white shirt, grey cardigan tied around shoulders, grey shorts and grey pop socks.
Unfortunately, the script itself became slightly unclear and confused (with no fault to the actors), and there were times when the piece dragged. Puns were often lost, some lines were tripped on and at times comedic elements felt pre-empted and forced. However, there were some genuinely funny moments within this production, with a particular mention to the audition/ production scenes where the audience seemed to positively react. Anabel Kutay succeeded in her "dippy" and materialistic conveyance of American Genevieve and often received the audience's laughs through her expressive facial expressions and characters constant need to be center of attention. Emmerdale's Gemma Oaten and Jon Robyns also put on good performances throughout, with Oaten particularly shining at the end as the exasperated and perplexed director.
Going Ape! had the potential to be considerably better taking into consideration the calibre of the actors. However, the production itself was well directed and there were elements of genuine humour. If you're looking for a production with a bizarre, yet interesting concept, Going Ape! provides just that.
Reviewer: T. Smith
Reviewed: 6th October 2018
North West End Rating: ★★★★