Faustus tells the story of a doctor who sells their soul to Lucifer to become more powerful and their journey coming to terms with what hell is really like. Going into this production, I knew very little of the plot or ideas presented in the play. The play discusses interesting ideas with regards to heaven and hell and is one of very few pieces to put this existential debate front and centre.
Neve McLaughlin directs this production of Faustus and she does a great job at finding variations in tone. In a piece that could easily be quite heavy going she manages to find lots of comedy, which is definitely helped by the terrific cast. Although the staging isn't particularly inventive, the use of lighting helps make the show look more appealing, which was especially essential as the set was very basic.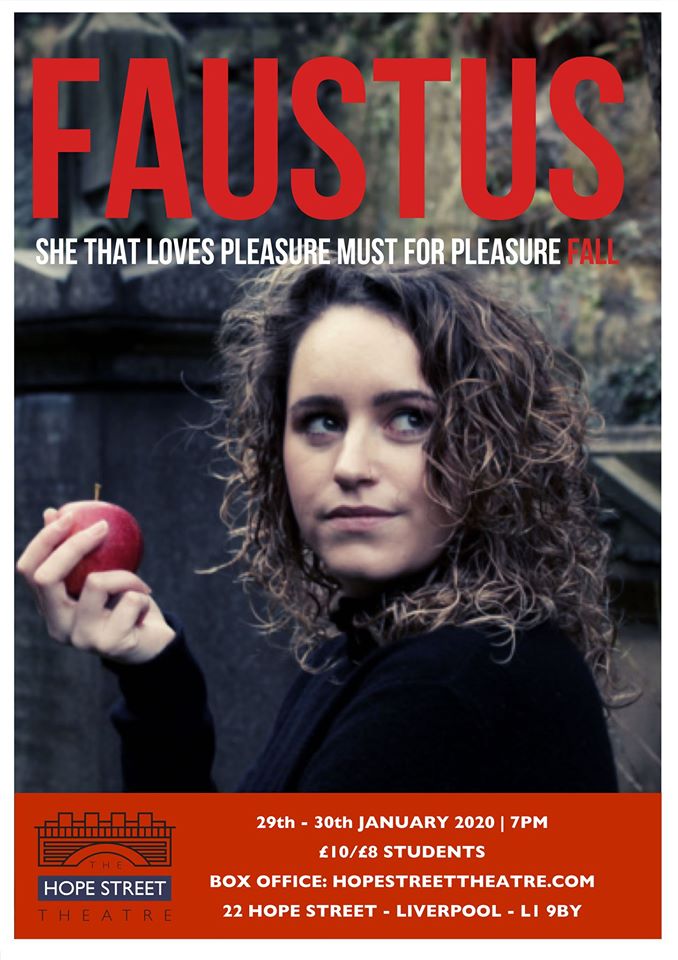 Solenna Le Goff leads the cast as Faustus and you wouldn't know the role isn't usually played a female. Le Goff had great commitment to the character and she had a great intensity to her portrayal. The issue for me was Faustus is presented as quite selfish from the start so I struggled to warm to her and therefore didn't have any desire to see her get a happy ending. This is more down to the writing I felt than Le Goff's performance.
Kel Nkondock plays Lucifer and although she is very underused, her stage presence is outstanding. She has a very commanding presence on stage and creates an almost businessperson-like persona for Lucifer which works very well. Lewis Smith brings some warmth to the play as the Good Angel whilst Charlotte Marie contrasts him perfectly as the Bad Angel. Smith and Marie play various other roles and each role is portrayed superbly. Alex Burke provides some great comic relief as Robin and works brilliantly alongside David Swift as Wagner. Despite how entertaining this duo was, I struggled to work out what their relationship to Faustus was or if they even had any. Anastasia Kulaeva does a good job as Helen of Troy although she gets very little stage time and doesn't really get a moment to shine.
Noah Ottman and Lizzy Paes were a fantastic double act playing 2 Scholars amongst other roles. Their comic timing was perfect and they had many laugh-out-loud moments. It is Ottman and Paes, as well as Charlie Collinson that stole the show for me. Collinson plays Mephistopheles and his characterisation is outstanding. He shows great variation in his acting and he is quite likeable, giving a false sense of security, which is quite possibly what makes the ending so difficult to watch.
Magpie Theatre's Faustus is a show that showcases some incredible acting talent and this is what makes the show enjoyable. The play does tackle some interesting issues but it didn't move me very much, primarily down to the writing of Faustus as a character. However it is definitely worth trying to catch this production to see the fantastic performances from the cast.
Reviewer: Jacob Bush
Reviewed: 29th January 2020
North West End UK Rating: ★★★