Father Christmas, St. Nicholas, Santa Claus, Sinterklaas, Jolly Old St. Nick or Kris Kringle are all one in the same, but how do you refer to our friendly, once a year visitor?
Miracle on 34th Street tells the story of how Kris Kringle becomes the Macy's Santa, firstly for the Thanksgiving Day parade which leads to him becoming the Santa in the toy department, in the run up to Christmas. It is a heart-warming story, filled with twists and turns, but will thaw even the coldest of hearts!
This production of Miracle on 34th Street is a musical and is based on the original film, released in 1947, which was remade (and slightly altered) in 1994. The cast seemed to have been expertly selected to tell this story, as each one appeared to have been made for the role they were playing. Tim Parker, as Kris Kringle, was the embodiment of Santa; fun, caring, and with the 'real whiskers'. For a few hours he was able to make you believe that Santa really was real, again and I'm sure many young children have mistaken him for the man himself on a few occasions! Caitlin Berry, as Doris Walker proved that women can be strong-willed, independent and career driven (with a voice to match), whilst still being motherly and kind.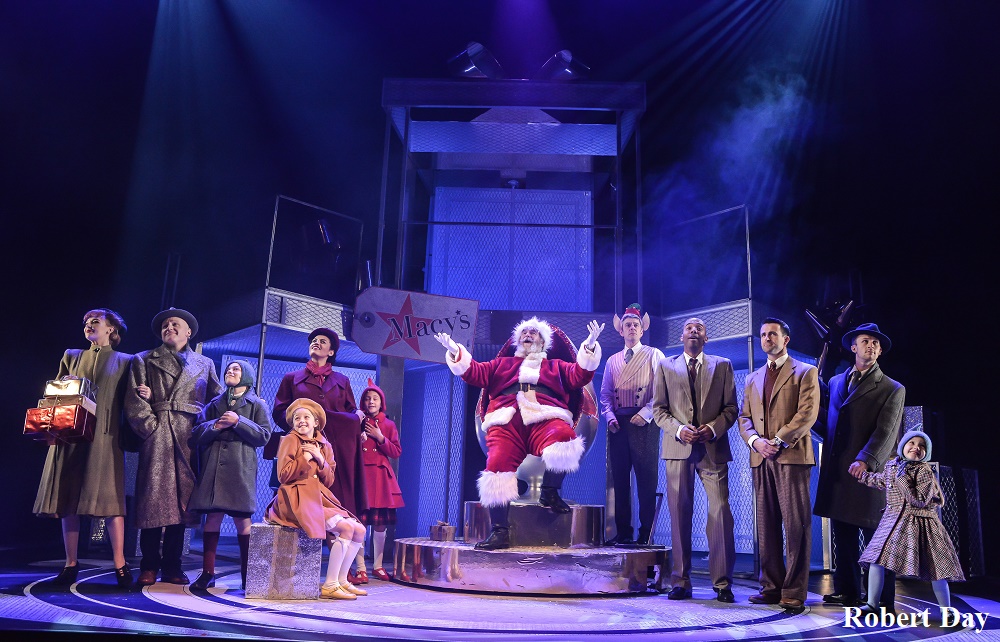 You had to admire her determination to make sure she was able to provide everything she could for her daughter, without the need of a man in her life.
Stuart Reid was suave and sophisticated as Fred Gaily made us believe in hope, faith and Santa Claus. You found yourself hoping against hope, that Miss Walker would realise that Fred was the perfect man for her and let herself love him, in the way he deserved to be loved. For me, though, the stand out performance was Maddison Thew as Susan Walker. She was the ultimate child who no longer believes. She's strongly fierce and independent, and begins only trusting her mother. Over the course of the evening, she made us believe that Kris Kringle was thawing her heart and allowing her to believe in the magic of Christmas! Thew is extremely talented, and is definitely a name to keep an eye on – she has a long and bright future ahead of her!
The rest of the cast also proved their worth, diligently changing between characters and proving how versatile they all are. Nicole Deon, Kevin Harvey, Chloe Pole, Mark Rice-Oxley, Liam Tobin and Taylor Walker are all magnificent at their craft, and are showing their young counterparts (Romi Hyland-Rylands, Marlis Robson and Seth Woodason) how to be the best of the best. All of the cast worked extremely well together, and left no man or child behind in any scene. They are a well-oiled machine, and it shows because they were able to create such a magical evening for the audience!
The set, created by Olivia Du Monceau, were stunning, clever and extremely Christmassy, clearly showing the difference between the stores, homes and even the New York Supreme Courts! Gemma Bodinetz directed the cast to the highest standard, and she should be pleased with the result of her efforts!
Whilst I wouldn't say any of the songs were particularly memorable, they worked well with the story, and fitted in effectively – not just thrown in to be able to call the show a musical. The band, led by George Francis, were wonderful additions to the story telling.
It is a show I could happily watch again and again, and I dare anyone to walk out of the theatre not believing in Santa again – no matter what age you are! Playing until 4th January 2020 https://www.everymanplayhouse.com/
Reviewer: Jenn McKean
Reviewed: 11th December 2019
North West End UK Rating: ★★★★