It is always a pleasure to witness new theatre and this show was no different as Out The Attic Productions present "That's What She Said". Out The Attic are a Liverpool based Theatre company who describe themselves as storytellers who have a passion for giving voices to women and those underrepresented through history. Their latest slice of drama services exactly that as it involves individual stories from six strong females depicted through a baseline story of that famous Ibiza holiday that happens commonly in late teen years. The anecdotes are based on true and real experiences from the actors and this shines through as they bring reality and authenticity to every part of their performance.
When these six individuals meet in Ibiza, they become the best of friends despite ticking different boxes in terms of social class, race, sexuality and everything else in between. The story line sometimes fell a little flat or perhaps it was the pace that slowed on some occasions however the take home message was very loud and clear and the final scenes brought the whole performance together.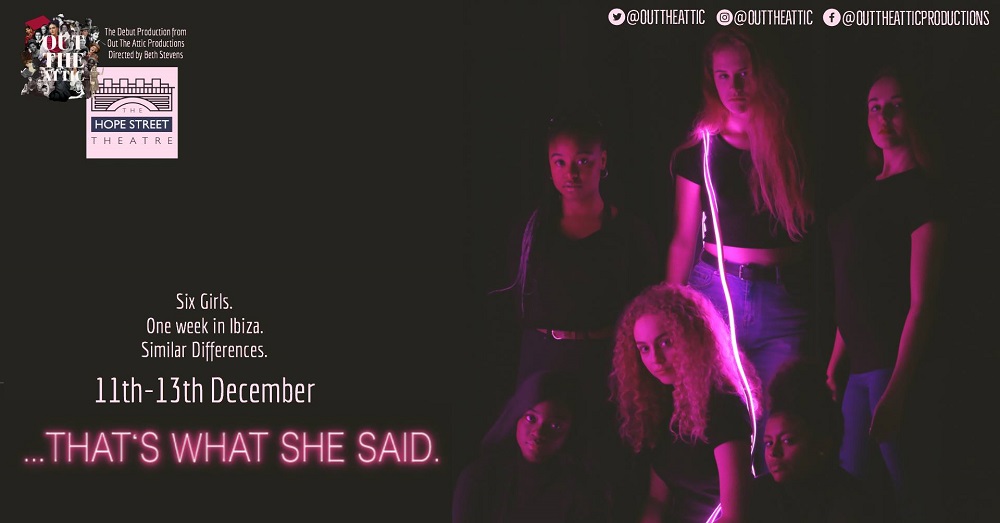 This one act play starts with a messy scene of six open suitcases and every kind of holiday essential thrown across the stage. As well as this visual sea of madness, there is auditory friction as we hear multiple layers and conversations discussing women, race and politics being blared across the theatre. This sense of unease continues when the dialogue opens and all of the voices overlap. The choice of music was completely in keeping with the modern, fun, exciting feel of this show.
The drama was somewhat slow to build and although some of the characters were exaggerated and edging towards unrealistic on some occasions, they were very funny and definitely got the audience laughing. The six actors gave excellent performances with lots of individuality and characterisation making them likable in different ways. As well as fun, they brought a confident and endearing energy that made the audience smile when they should but also feel the harder, more emotive messages when necessary.
The set is simple but cleverly executed. The use of four bright, modern lights are moved around the stage by the performers to create different spaces and scenes. There is a permanent white suitcase positioned at the front of the stage that projected facts and statistics relative to the action at key points throughout the performance. This was quite original married well with the modern, strong messages that shone through in this production.
Overall, "That's what she said" is enjoyable and thought provoking and certainly explores what it means to be a woman in 2019 in an empowering and authentic way. Congratulations to the cast and crew and good luck in the rest of your run. The performance continues at Hope Street Theatre until Friday the 13th of December 2019.
Reviewer: Bláthíne Maguire
Reviewed: 11th December 2019
North West End UK Rating: ★★★★