At Heaven's Gate, written and directed by Adam Leyland, is the debut play from Script Suppliers. Set in an old people's home, the curtains are almost drawn for geriatric Romeo, Arthur (Callum Forbes), and sidekick Frank (Ryan K Byrne) as their life alternates between Baywatch and Babestation with only one of the two female residents, Edith (Laura Chassels) – best not to mention diabetic Debbie – to keep these over-exuberant boys out of trouble: well, as much as their creaking joints will let them get into.
However, it soon transpires that Frank is most definitely an old man in need of a little something extra, so our curmudgeonly crew need to come up with an escape plan to get around the overly watchful eye of camp-in-command Danny (Callum Heeley). But when a little female competition appears on the scene in the creakingly good form of Mavis (Jo Sherlock) then we are most definitely on a mission from God: the question is will Frank get off…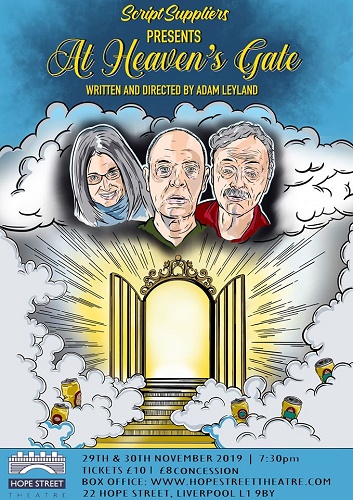 This was political incorrectness at its most extreme and all the better for it, delivered by a top-notch cast who were clearly revelling in the material Leyland had given them with occasional ad libs and improvised responses to events on stage which only served to reinforce their obvious ability.
There were some topical references mixed with in-jokes that the audience clearly got, including a couple of good-humoured digs aimed at friends, that had everyone laughing and for all of the words that I put together here, that in itself is the best review of all. The staging was simple, visually effective and superbly delivered: many a company could learn a thing or two from watching that alone. There was a certain rhythm to scene changes that added to the delightful choreography arranged with the assistance of Laura Connolly which reached its pinnacle in the outstanding fight scene.
Chassis deserves special mention for having stepped into the pivotal role of Edith only five days ago: I wouldn't have even guessed at that if I hadn't been told during the interval as she was a scary delight to watch. Forbes was comedy gold in one of his best performances that I have seen. Byrne caught the double-edged nature of Frank perfectly giving us both humour and emotion. There was perfect support from Heeley and Sherlock as well as a talented ensemble borrowed from LIPA Sixth Form College (Jack Lee Jones as Glen; Oliver Cunliffe as Billy; Rheanon Shaw as Debbie; Shea Mcginn; Teigan Green; Verity Walker – all as staff) who, having been given a little more to play with by Leyland rather than to just make up the numbers in the background, shone accordingly.
Could some things have been better? Sure, a tweak here or a tighten up there but on the whole I haven't laughed so much in a long time and as one audience member commented on the way out: this is just what you want on a Friday night out. I'm sure it's equally good on a Saturday night and will hopefully return for an extended run, even though it means I will never look at a Werther's Original the same again.
Oh, and maybe Adam Leyland, you could consider the sitcom potential of this piece…
Script Suppliers provide an innovative writing service specialising in contemporary bespoke showreel scenes, monologues & duologues. Further details www.facebook.com/ScriptSuppliers/
Reviewer: Mark Davoren
Reviewed: 29th November 2019
North West End UK Rating: ★★★★