Family and trust are central themes in Will Cooper's powerfully emotional new play from Grin Theatre Company. Performed at VideOdyssey (formally Toxteth TV) in Liverpool, the play finely balances the story of a family torn by a shared truth that threatens to overwhelm and consume everything they hold dear.
Josh (Ollie Catherall) lives with his mother Jenny (Pam Ashton). His father is absent and as the play develops we begin to understand the reasons why. Josh's bestie is Lucy (Holly Murphy) who we learn has a sort of crush on him but Josh really only has eyes (and heart?) for his other best friend Tom (James Jarman). Now all the characters are complete and the scene is set. The story slowly reveals itself with some really clever word play and Cooper superbly captures each person and how they interact with each other. The final scene of the play is nothing if not extraordinary and packs quite an emotional punch. To give any spoilers would do a great disservice to the piece itself; suffice to say, this is a play that needs to be seen by a wider audience.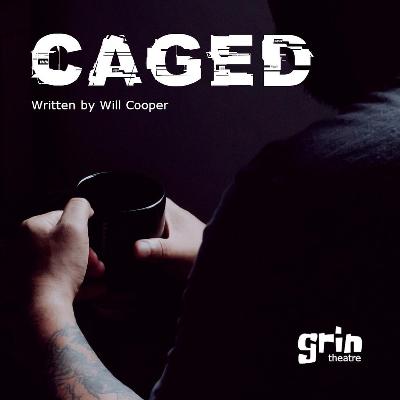 Cooper, who also directed Caged and Michelle Parker who is assistant director on this production enables the ensemble to live and breathe on the stage and because of this, we see real people with real desires, real dreams and indeed many faults. Coopers words are singularly exceptional and there is a definite flow and rhythm in all that we hear. It's lean and straight to the point.
Catherall gives a quietly simmering and well-judged performance as Josh, a teenager who is struggling over his identity and his feelings toward his friend, Tom. Ashton who plays his mother, Jenny, gives a powerfully emotional performance and lights up the stage with a magnetic monologue during the first act. Murphy, who plays Lucy gives a pitch perfect performance as her character goes through a range of emotions leading up to a devastating monologue which had the first night audience totally transfixed. Jarman who plays Tom gives a measured and powerful performance as a teenager torn between his feeling for his best friend Josh and the heart-breaking situation that all four characters find themselves.
This was an ensemble working as one and it was indeed a pleasure to see some excellent acting from all four.
The venue was ok although there was a problem with sightlines and I felt the play could've been better served in a proper theatre space but this is just a minor grumble.
What we have here is a dark and complex story of a damaged family, of a boy finding his true place in the world, of a mother who is trying her best to protect those around her, of a best friend who needs to be loved and another best friend who is frightened to expose his fragile feeling.
This was real theatre.
Great stuff!!
Reviewer: Jack Duncan
Reviewed: 21st November 2019
North West End UK Rating: ★★★★
Grin Theatre Company is an LGBTQ theatre company based in Liverpool and has its tenth anniversary in 2020.
Videodyssey is a multi-media centre located in Toxeth.