Priscilla Queen of the Desert is an all singing, all dancing, glitzy musical show with an exuberant talented cast based on the Oscar-winning film of the same name. It highlights the adventures of three friends who take a shabby, beat-up old van across the Outback in Australia to put on a show of a lifetime. Their ambitious trip is a heartening story of self-discovery and acceptance.
Joe McFadden plays Tick/Mitzi with his two sidekicks Miles Western as Bernadette and Nick Hayes as Adam/Felicia. Western and Hayes are accomplished, experienced actors whose talent is exemplary. They play their parts with passion and proficiency. Unfortunately they outshine McFadden in every scene. Diminutive McFadden has a lack of stage presence and is overshadowed by the physical stature of Western and Hayes and by their vocal delivery and acting ability. Mc Fadden, known for his TV acting and Strictly Come Dancing win unfortunately does not come across as the star of the show.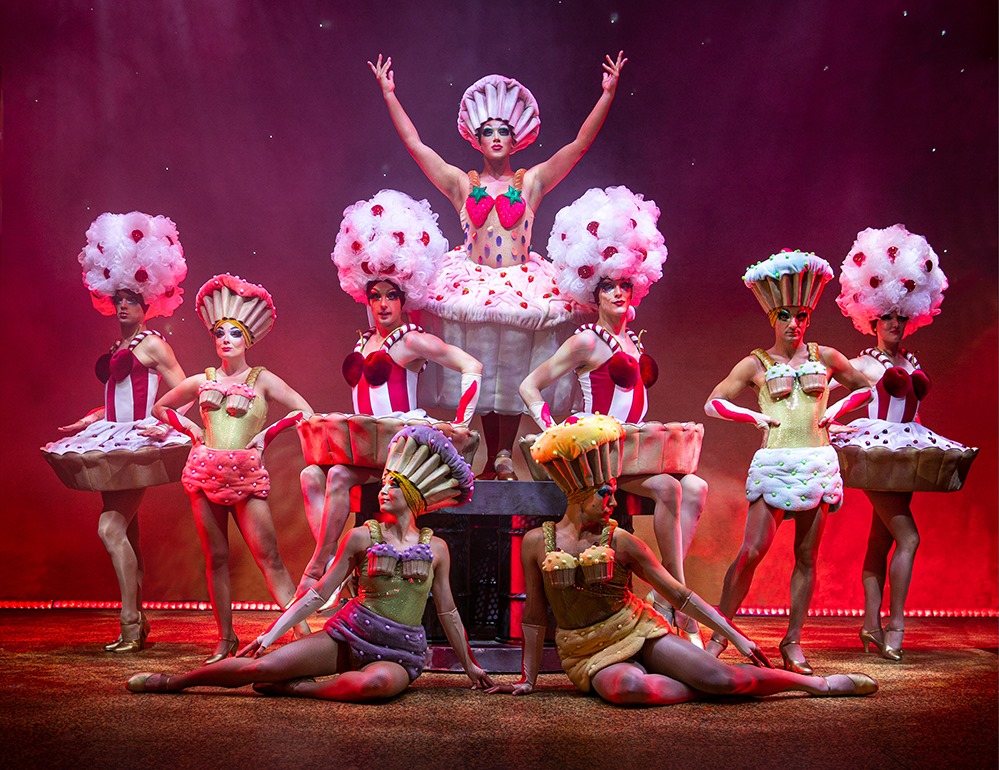 He plays Tick far too mildly and needs to be more assertive in the role. He is almost lost in the production except for having an integral part in the storyline. Nevertheless he sings and dances capably.
The iconic show features a glittering collection of spectacular costumes and a non-stop parade of disco dance-floor classics mainly from the 1980's including It's Raining Men, I Love The Nightlife and Finally and gay anthem I Will Survive, all accompanied by a live orchestra.
Some of the audience attended in full drag costume and I'm not talking do-it-yourself at home make- up but fully professionally made-up faces plus model-style get-up and wigs which added to the excited atmosphere and eager anticipation of the show. Of course Priscilla Queen of the Desert is a show with a message and it was mostly preaching to the converted in the audience. It has been 25 years since the film hit the big screens and landed slap in the centre of drag's first golden age and 13 years since the musical first opened in Australia, having since travelled the world playing in over 30 countries. I found most of the gags and one-liners rather outdated, some far better suited to a Carry On film but references to lesbians, faggots, transgender people and camping it up seemed to go down well with the audience who seemed to relish them. The Asian ping-pong scene with Natalie Chua was particularly appreciated and had the audience members rolling in their seats laughing.
Jason Donovan, who originally starred in the West End production as Tick produced the show along with Executive Producer, Mark Goucher. Musical arrangement was by Stephen 'Spud' Murphy with choreography by Tom Jackson Greaves. Vocals from the three female backing singers were superb and set and costume design by Charles Cusick-Smith and Phil R. Daniels were outstanding. The musical score was a delightful mix of oldies but goodies and had the audience clapping and singing along.
I think Priscilla Queen of the Desert was at one time ahead of its time as it featured the prominence of a transgender character in Bernadette but now that time has passed and we are more accepting of homosexuality, transgenderism and LGBTQ+ and are used to seeing storylines on TV and in films featuring gay and transgender people, such as RuPaul in RuPaul's Drag Race and Hayley Cropper in Coronation Street plus the hugely successful musical Everybody's Talking About Jamie, it doesn't now seem to have the same impact or shock appeal that it once had. The subject matter has almost become passé. Nevertheless, it was a very enjoyable way to pass two hours.
If you enjoy watching well-toned young men in very short, tight, shorts and tulle tutus camping it up and gyrating to songs you enjoyed dancing to in disco's and clubs and marvelling at glittery costumes whilst listening to colourful, titillating, innuendo then this show is for you.
The show runs until the 16th November at Liverpool Empire Theatre. Age guidance 13+. https://www.atgtickets.com/shows/priscilla-queen-of-the-desert-the-musical/liverpool-empire/
Reviewer: Anne Pritchard
Reviewed: 11th November 2019
North West End UK Rating: ★★★★