For eighty minutes Lucy Jane Parkinson has the audience enthralled as she recounts the story of Joan of Arc. Surprisingly, the tale of the 15th Century teenage firebrand who dressed as a man to lead an army against the English and get the Dauphin Charles on the throne, before being burned at the stake for heresy, has much contemporary resonance.
Lucy J Skilbeck highlights this in her taut lyrical script, which in Parkinson's hands seamlessly shifts from poignancy to hilarity. As questions of gender identity pepper our everyday discourse - recently The Stage pulled an article about gender neutral toilets at the Old Vic theatre due to the backlash it inspired - Joan's 'she-boy' status (as articulated in Charles's euro pop number) provides an opportunity to explore the concept of gender six centuries after her untimely and unfair death.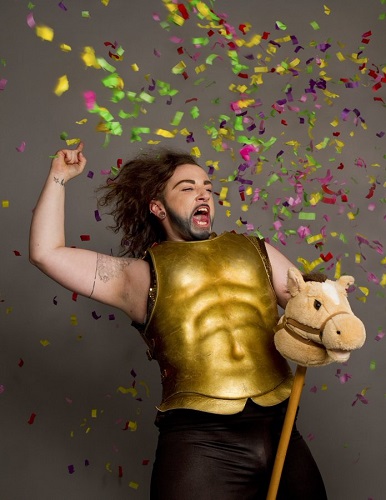 Parkinson guides us through her story playing Joan and the influential men in her short life, with the audience providing additional support as horses, armies, a love interest and - perhaps most enthusiastically at this performance - a canon! Parkinson is comfortable in the role, handing ad-libbing audience members with aplomb. Her award winning drag king status (she regularly performs as LoUis CYfer and has won Drag Idol UK) is evident from her speedy transitions from Joan to her dad, Charles and Pierre Cauchon (the man who sentenced Joan to death).
In a flash of strategically applied facial hair Parkinson transforms before serenading the audience in an appropriate musical style as the character in question. The songs (also written by Skilbeck) are great fun. They are competently performed by Parkinson - Joan's dad bemoans her dyed hair, and the hair dye on the carpet before declaring 'it's the 1400s and I've got hair dye on my carpet...wait, there's a carpet?' in his big number which evokes northern karaoke clubs.
Emma Bailey's design is simple and effective, often working with Joshua Pharo, Sarah Readman and AI Orange's lighting design to bring Joan's world to life. Four mirrors stand at the exits of this performance in the round.
During an incredibly moving moment - as Parkinson (who a second before had the audience side-splitting with laughter) describes how she watched as her village burned, and her mother was raped and murdered - the mirror next to her reflects the smoke in the theatre bringing to mind the billows of smoke that Joan must have seen from her hillside perch and foreshadowing our heroine's fiery death.
There is much to recommend Skilbeck's script although how it would feel without Parkinson's 'accent which accentuates without warning' and deft delivery remains to be seen. What does need to be seen is this show! As she took her bows Parkinson informed the audience that she didn't know when they would be performing it again so I cannot implore you to run to the next venue, or other appropriate reviewer clichés! I can however recommend that you buy a copy of the script which was on sale after the performance.
Reviewer: Clare Chandler
Reviewed: 9th November 2019
North West End UK Rating: ★★★★★