Agatha Christie plays are almost impossible to write about because the audiences are sworn not to reveal anything which creates a challenge in writing a review of this ingenious production that follows Leonard Vole (Lee Burnitt) who has been accused of killing a widow: only time will tell whether he can convince the jury that he is an innocent man, in a court presided over by Mr Justice Wainwright (Les James) and court clerk (Sue Massey).
A classic whodunnit, we meet all the characters connected with the case and learn their motives and thoughts while we try to solve the case in our own minds, although the case against, presented by Ms Myers QC (Tessa Dunbavin), seems overwhelming: Vole astutely befriended the rich old lady who was the victim, inherited all her money, and on the night of the crime was seen with blood on his clothes.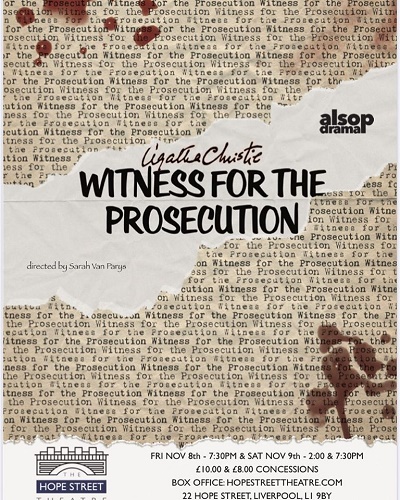 Can the defence team led by Sir Wilfred Robarts (Mike James) and Mr Mayhew (Andy Wright), aided by clerks Greta (Helen Massey) and Carter (Andrew Ab), fare any better as they try to discredit the testimony of Inspector Hearne (Joe Wilson), Dr Wyatt (Pauline James), Ms Clegg (Hayley Hamilton), and housekeeper Janet Mackenzie (Linda Mcgrath)?
But when Vole's German refugee wife Romaine (Clair Wright) becomes the titular character of the piece, you have to wonder whether his days are numbered or whether another woman (Sophie Weymouth) may hold the key: we, the audience, are the jury and led by a Foreperson (Beth James), what will we decide?
The play's appeal lies not only in its mystery but in its courtroom formality which reminds us that the law itself is a theatrical ritual right down to the exquisite dressing up in this production which is in perfect accompaniment to the stunning set from Chris McCourt. Thoughtfully staged in the round to reinforce the very tense atmosphere, at various points in the trial we are immersed to such an extent that you forget you are watching a play and feel you are in court being addressed by the competing legal teams.
Although it is a long opening half at over ninety minutes – we are forewarned before the start – and the interval was eagerly anticipated, it became a buzz of inquisition as the audience tried to pool their thoughts together to take a guess as to who the murderer is and why.
There are strong performances from Dunbavin, Mike James, and Wright, with a special mention to Helen Massey in a supporting role. Clair Wright provided a clever portrayal of Romaine, performed with great skill to cement the inevitable twist in the tale that Christie plays are famous for. Burnitt rose to the demanding challenge presented by Vole, a character with very little time off stage, with an excellent performance that was timed to perfection to bring that twist crashing through at the end.
Director Sarah Jayne van Parys is to be commended for her excellent use of the theatrical space to deliver a truly engaging piece of theatre where the clever twists and turns layered within the story keep the audience on their toes throughout: even when you think you've got it there's another one thrown in for good measure, and the 'oohs' and 'aahs' emanating from the audience are testament to a job very well done.
Agatha Christie's Witness for the Prosecution next performs at The Hope Street Theatre on Saturday 9th November at 2.00pm and 7.30pm. Tickets are priced at £10 (£8 concessions) and available via Box Office on 0344 451 0622 or online http://hopestreettheatre.com/whatson/
Reviewer: Mark Davoren
Reviewed: 8th November 2019
North West End UK Rating: ★★★★