Anyone who loves Julia Donaldson's tale of Tabby McTat (and who doesn't?) can't help but love this dramatized musical version by Freckle Productions.
It might seem that, currently, almost every children's theatre production is based on one of Julia Donaldson's books, but with their wit and humour, their structured storytelling and their fabulous characters, they represent an ideal way to introduce children to the theatre. And although some adaptations and some productions will be more successful than others, it would be hard to find one better than this, as the production goes far beyond merely retelling the story in a dramatic form. There is slapstick and pathos, conjuring and dancing, with a special handshake for everyone to practice and learn.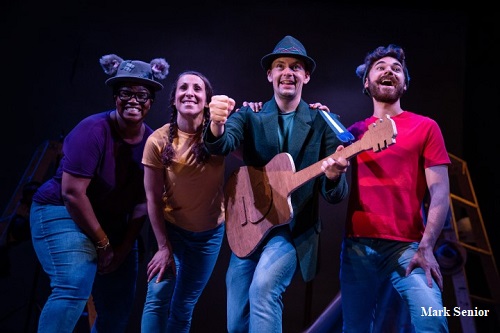 It should also be said that the Everyman theatre is ideal for this type of production, with every member of the audience (which ranged from tiny toddlers to grandparents and even a significant number of drama students, who threw themselves enthusiastically into the spirit of the production) able to see everything and feel part of events.
The deceptively simple set allowed the children enough information to move from one location in the story to another but without slowing down the action or allowing it to become a distraction.
The four performers with endless charm and seemingly boundless energy, hit the ground running with Luke Rees Oliviere acting as Sam, son of Tabby McTat, and who is narrating the story, inviting Paul Hilliar, Anneka Gouldbourne and Rhian Mclean, who were planted in the audience, to come down and take their place in the play one by one, with each bringing something different but essential, thus adding to the whole idea of working together to produce something special.
The story telling is clear, but the play also manages to fit in giving children an idea of how theatre works with a clear explanation of how each character is identified by their specific hat irrespective of which cast member is wearing it. There is a quick but effective demonstration of how the lighting affects the play, and the action is enhanced by the insertion of several songs covering a whole range of musical styles. The team also show how the most innocuous object (a cardboard fan, a collection of plastic bags) can be transformed by imagination.
After the team had waved goodbye and the audience streamed out, I could hear some of the children singing the songs, some were practising the handshake, and the drama students were buzzing. These 60 minutes will figure among favourite memories for children and grown-ups alike. It's a must see for all ages.
Reviewer: Johanna Roberts
Reviewed: 10th October 2019
North West End UK Rating: ★★★★★