Ariel Dorfman's thrilling play was written in 1990, the year that Chile finally returned to democracy with its people coming to terms with the aftermath of Pinochet's brutal dictatorship of mass disappearances, torture, rape, and murder.
It captures a 24-hour period when one night a stranger, Roberto Miranda (Pete Cuffe), knocks on the door of a survivor of torture, Paulina Escobar (Emma Bird) and her human rights lawyer husband, Gerado Escobar (Phil Perez). She recognises the stranger's voice and is convinced he is the perpetrator of her violation and proceeds to force a confession. But what is the truth she hopes to find?
Tonight's production, under the direction of Margaret Connell and producer Siobhan Noble, has cleverly set the play in contemporary times in a non-specific geographical place to universalise the story since the issues it explores – trauma; morality; redemption – still resonate today making this so much more than a historical piece, indeed it highlights our inability to learn the lessons of history as we witness the ongoing division and polarisation between individuals and nations today.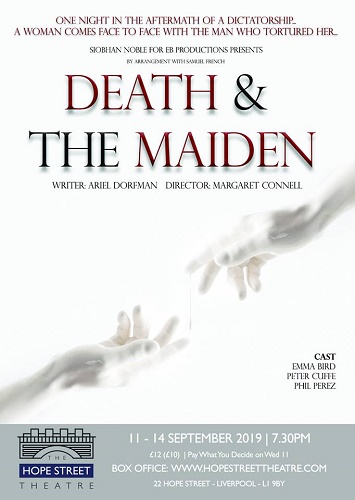 Just look around at the increase in knife crime; when political leaders joke about the way in which some Muslim women dress; when the two main political parties appear rife with islamophobia and anti-Semitism respectively; where globally the far right is on the rise again. Given the machinations of the UK parliament over the last fortnight, the warnings are far too alarming to easily dismiss.
I've always liked Gabriel Byrne's approach of assuming that your audience are intelligent and letting them work it out for themselves and it is great to see this being echoed in this production which is a powerful and mesmerising piece that raises more questions than on the surface it appears to answer, in an explosion of ideas which challenge us to consider Old and New Testament morality; how we define modern-day masculinity; whether female emancipation is merely an illusion; the balance between principles and ego in our behaviour; and ultimately the role of victim and manipulator when some of the biggest victims are the biggest manipulators.
What would you do for love? And love of what exactly? Somewhere, within this dilemma, lies the truth. But what is it? Well that's anyone's guess and individually as an audience we are asked to work that out although our conclusions may well differ. To deliver such a powerful piece and transform your audience's thinking takes something special and the experience and expertise of Connell and Noble were well complemented by strong performances from Cuffe and Perez, and I was transfixed by the depth of Bird's portrayal of Pauletta, capturing her as the most perfect and powerful conundrum of all.
The exquisite set design from Rebecca McGrory and build by Javier Gomez paid full attention to detail and afforded us a split stage which allowed events to unfold in parallel, with the full-on breaking of the fourth wall at the end ensuring our reflections were truly personal. Tech is often the biggest challenge for amateur/fringe theatre but this production raised the bar very simply: by doing the little things and doing them well such that the sum of the parts far exceeded their total, with an intimate lighting design from Peter Mitchelson and supporting sound effects from Max Wilson including original compositions sensitively moving us between scenes. The considered use of silences throughout added a further layer of intensity which had me on the edge of my seat.
Death and the Maiden performs at The Hope Street Theatre 11th – 14th September at 19:30 with tickets priced £10.75 - £13.00 and available via http://hopestreettheatre.com/whats-on/
'A powerful and mesmerising piece'
Reviewer: Mark Davoren
Reviewed: 12th September 2019
North West End Rating: ★★★★★