Lost Boys marks the return of award-winning playwright Luke Barnes to Liverpool in this collaboration with the National Youth Theatre about growing up in a northern town, exploring how where you are from and gender identity affects who you are, who you become, and your mental health with particular emphasis on what it is to be a man and the pressures of playing up to a behaviour pattern that is no longer recognisable in a rapidly shifting landscape or accepted by society at large.
The piece is introduced by a narrator (Louis Carrington) who as one of these troubled young men introduces us to his 'new' northern town and the peer group who live there, and through a series of vignettes and monologues, which resolve towards the end, we are introduced to the struggles of young men from relationship rejection; group-think and the need to conform; violence; online porn addiction; and suicide.
Under the direction of Zoe Lafferty, all the cast – Floriana Dezou; Faye Donnellan; Tom Isted; Neve Kelman; Alexandre King; Charlie Knowles; Alex Meredith; Eoin McKenna; Kwame Owusu; Jenna Sian O'Hara; Sam Rees-Baylis and Daryl Rowlands – perform strongly.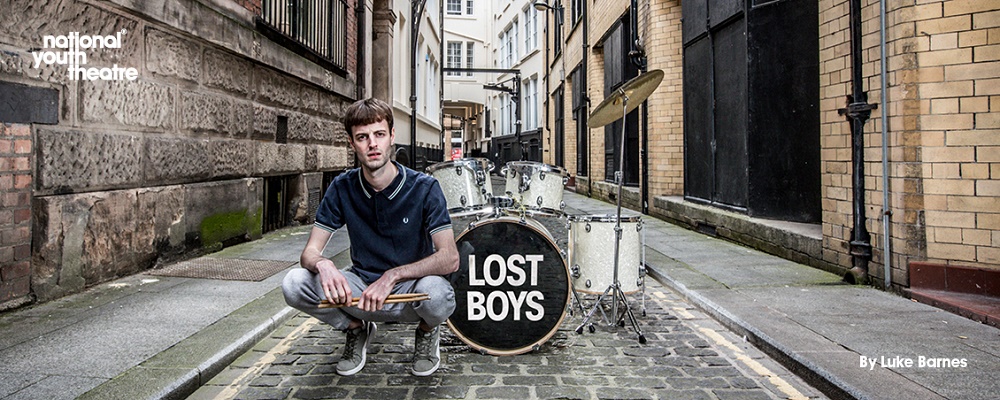 I liked the staging with the townscape set out in plan on the stage, illuminated by LED lighting and crates serving as landmark buildings one minute and a prop in a scene the next, which added to the vibrancy and energy of the piece enhanced by original songs from Dom Coyote which feature throughout. Whilst the use of vignettes was a good idea to bring different strands together some of them became overlong and lost in themselves rather than moving the story on with a tendency to tell rather than show. In contrast Dave's scene in the pub following the spilled drink was powerful and a perfect illustration of peer pressure. I would have preferred more in this vein whilst in parallel charting his inevitable breakdown. At almost two hours it is a long piece to take in without an interval, especially when parts of it start to drag.
Whilst I appreciate what the piece is trying to achieve, suggesting people in a new northern town are different, to me misses the point. I think the issues raised are ones that affect all young men irrespective of background or location, and have done for some time: these are not new issues arising from a shift in society, rather they are an expression of angst as teenagers come to terms with their growing pains and discovering a sense of self. That they need the right support and a healthy output has always been the case and the positive is that we do now acknowledge these issues and the right support is out there. The key is to show that feeling like this is normal rather than different.
I also feel there was a missed opportunity to explore the growing pains of young women. A strong female character we meet early on could be too easily dismissed by an audience as she rejects Dave whose story unravels as a consequence. The later girlfriend of another character who wants her boyfriend to talk about his feelings was a perfect opportunity to show and contrast the differences between men and women in a development of the nature/nurture argument without one having to be right and by default the other wrong: men are from Mars, women are from Venus – we are different but we can learn from and complement each other.
Lost Boys performs at Unity Theatre 4th – 11th September, tickets are priced at £14 (£10 concessions and NYT members) and are available via https://www.unitytheatreliverpool.co.uk/whats-on/lost-boys-19.html
Reviewer: Mark Davoren
Reviewed: 5th September 2019
North West End Rating: ★★★★