Promising a night of 40's music, dance and performances, I was very much looking forward to an evening of nostalgia at this presentation from the Jack of All Trades Theatre Company, formed by Meg Mcfarlane and John Smith. All proceeds from the event are admirably being donated to the House of Memories who provide free workshops and support for families, friends and community volunteers caring for people with dementia and raising awareness through a museum-led programme which offers training, resources and activities.
The venue for tonight's show is a small unit beneath railway arches in Liverpool and provides a cosy intimate atmosphere. Arriving 30 minutes before the start I was surprised to see rehearsals and last minute preparations still taking place, it felt a little unorganised and as the evening went on continued along this line, however it has been stated to me that,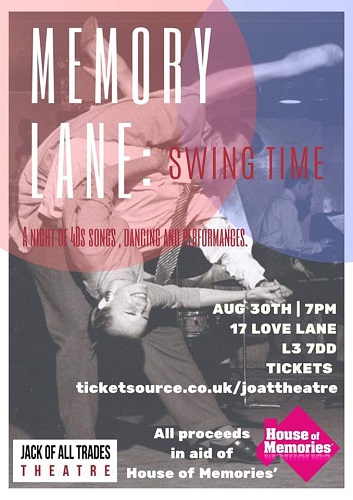 "Memory Lane: Swing Time is a relaxed environment in which people can come and share their memories and creativity In a safe environment. It's a place for creatives to try out work and help raise money for a well worth cause."
Whilst I agree that it's good to have this opportunity, I also feel that weeks of rehearsals are pointless if the end result is less than a polished show and with this I am a little disappointed and I feel gives the impression that the company do not have the confidence in themselves and gives poetic licence if things go wrong.
Starting the evening's entertainment is Hattie Bee, a vintage singer from Preston who is dressed immaculately in a 40's style floral dress and hairstyle reminiscent of the era. We are immediately transported back to those past years as she sings several songs which included favourites of the forces sweetheart Vera Lynn with 'Bless 'em All' , 'Hang Out The Washing on the Siegfried Line', 'Kiss Me Goodnight Sergeant Major' and I don't know about a 'Nightingale Sang in Berkley Square' but it certainly did tonight with Hattie performing all of her songs beautifully with the audience singing along to much loved 'White Cliffs of Dover and 'We'll Meet Again' which memories of the 40's and WWII would not be complete without.
Following on is a monologue, 'War Baby', written by Angela Langley. This was delivered fabulously by Flloyd Kennedy and really gave an insight to life as a child as bombs dropped around and I felt as though I was listening to genuine memories. We hear of changes in the workforce with 'Danger! Women at Work' written by Helen Jones and performed by Meg McFarlane, John Smith and Charlotte Melville showing how attitudes differ today with women working. Fresh back from a successful experience at the Edinburgh fringe festival, is Peter Gibson who has written and performs 'The Rise and Fall of the King of Crumpsall' making reference to the classic 'It Ain't Half Hot Mum. Geraldine Moloney Judge, Flloyd Kennedy and John Smith take us to the interval with a moving 'I'll be Waiting' by Rebecca Riley.
Continuing with more fond memories are Kate McAuliffe and Joan Pinnington in a touching 'Coming Home' written by Irene Stuart followed by a comedic, slapstick sketch from John Smith in 'True Brit' acted out by Mark Porter and Christopher John Ward. Meg McFarlane gives a poignant performance in 'Vera's War' by Ste Mc. There is a wonderful rendition of 'Somewhere Over the Rainbow' from Charlotte Melville.
With the final sketch, written by and performing in, Mark Porter brings us 'Bomb Proof', telling the tale of 'Grandad ' who thinks he's invincible, also performed with John Smith, Geraldine Moloney Judge and Meg McFarlane. Flloyd Kennedy, delightfully rounds off the evening with a little ditty and playing the ukulele.
Memory Lane: Swing Time does not quite deliver, there is no dance and little song, the dialogue between sketches is obviously unrehearsed with names forgotten and poorly introduced, there were times when I felt I was gate-crashing a rehearsal or private party as the thirty odd people that made up the audience were obviously friends and relations and I feel performers were a little too comfortable if mistakes were made. Occasionally there were sound issues as other than the singers there were no microphones used and voices did not always project to the rear of the theatre. Other than that, all performances were a joy to listen to and the memories were thoughtfully written giving a true insight to those bygone days and executed very well. JOAT were justifiably pleased at the funds raised, exceeding last year's amount. I truly believe with a little more effort there is the scope and talent to stage a much bigger show next year and reaching a wider audience than family and friends, raising more money and awareness of dementia.
For further information on House of Memories Visit www.houseofmemories.co.uk or email This email address is being protected from spambots. You need JavaScript enabled to view it.
Reviewer: Lorna Weekes
Reviewed: 30th August 2019
North West End Rating: ★★★