Magic Light Productions present The Magic of Wonderland, a family friendly reimagining of Lewis Carroll's classic children's novel about Alice and all her Wonderland friends.
Opening with the friendly and warm Alice (Libby Edwards) enthusiastically introducing herself to the audience, from the outset this is a fun and interactive show, particularly suitable for younger children.
Alice is closely followed by the White Rabbit (Steve Bloor), whose comedic performance of the classic "I'm late" is very funny. Alice follows the Rabbit into Wonderland where she meets the Knave of Hearts (Dean Raymond), Queen of Hearts (Stuart Loughland) and a whole host of other characters portrayed via colourful puppetry, voiced by the actors.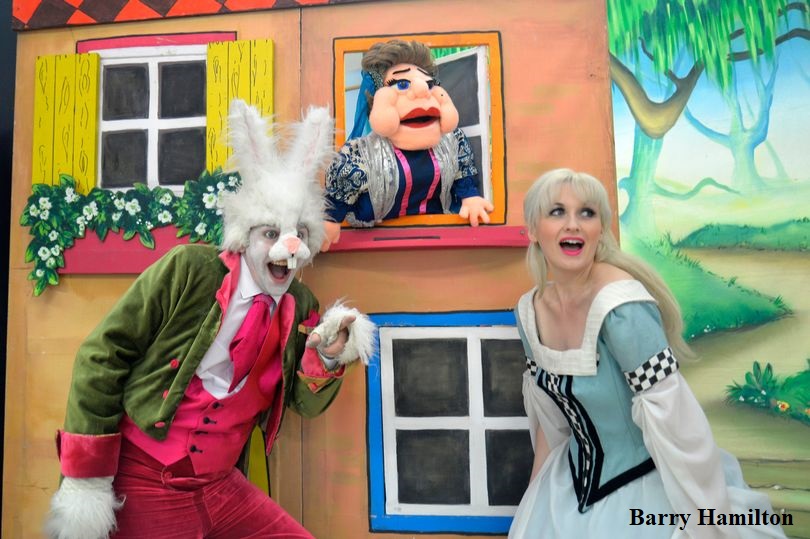 Alice soon finds out that everyone is going to the Queen's garden party except her, as she doesn't have an invitation. But Alice is determined to get an invitation and go to the party no matter what. She has to overcome a lot of obstacles, from a crazy never-ending tea-party to painting the roses red and a grinning Cheshire cat.
The interactive elements of the show were fun and the actors did an excellent job of encouraging the audience to participate, on what was a particularly breezy evening, with all the elements of a classic British summer, from sunshine to rain. At one point the brightly painted scenery blew over and litter trailed across the stage, both instances being dealt with and incorporated seamlessly into the show.
Projecting lines outdoors can be a great difficulty in outdoor theatre and the company worked around this by having the lines projected through speakers. While this is an understandable step to take, unfortunately, the speakers did cut off on a couple of occasions and the volume of them meant that when this happened, nothing could be heard.
The play featured simple magic tricks which enchanted the children in the audience. These really helped to create the magical atmosphere of Wonderland. This was enhanced further by the beautiful colourful puppets, particularly the magical book which is sure to entrance children of all ages.
Beautifully performed by a fun and very talented cast, this was a truly magical production, which mesmerised children and left them laughing out loud. A fun treat for all of the family which encourages us all to remember that "Imagination is the only weapon in the war against reality."
You can find out more about Magic Light Productions and their forthcoming shows on their website https://magiclightproductions.com/
Reviewer: Donna M Day
Reviewed: 18th August 2019
North West End Rating: ★★★★