From the cast tuning up as the audience arrives to the standing ovation at the end, you are utterly gripped by the story that unfolds on the stage. Written by James Meteyard and with music and lyrics by Maimuna Memon 'Electrolyte' (definition: 'A substance that dissociates into ions in solution and acquires the capacity to conduct electricity', is a remarkable piece of gig theatre, which had huge success at last year's Edinburgh Fringe. Told through the medium of spoken poetry supported and interwoven with live music, the play, which was devised in response to the psychotic breakdown of a member of Meteyard's family, tells the story of Jess (played with remarkable depth and energy by Olivia Sweeney).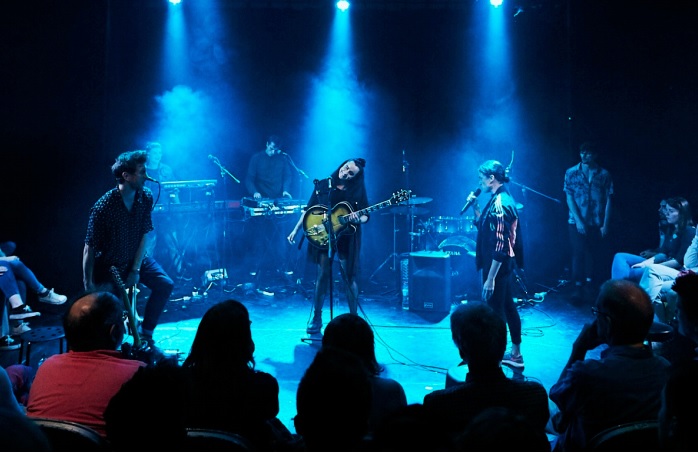 Tired of her life of cocaine and partying with her friends in Leeds, Jess is inspired by an encounter with singer/songwriter Allie Touch (the exceptional Robyn Sinclair) to travel to London, when suddenly, a letter appears in the post from her mother, with whom she had lost touch, revealing that she has been living in London and had only lost contact with Jess due to the actions of Jess's mysteriously absent father. While the initial temptation is to think 'Unlikely coincidence!', even after so short a time, the audience has learned to trust the performers and the storytelling, and the rewards for doing so are immense, as we come to see that Jess's narrative is far more complex than it would at first seem.
The story deals with themes of loss, grief, friendship, and mental health. While 70 minutes may not sound long, every second is made to count, with moments of intense emotion, frenetic action, and heart stopping lyricism. The deceptively simple set and the remarkably effective lighting quickly establish the different settings on Jess's physical and emotional journey and that of her childhood friends Donna, Paul, and Ralph, played with tenderness and humour by Megan Ashley, Ben Simon, Chris Georgiou and then Jim (played by Meteyard). All the performers also play the instruments which provide the music that is so important to the production by seamlessly weaving in songs that can convey emotions that words alone cannot. Yet, words are crucial, as the production reveals; it raises issues for discussion around the need for education about mental illness and the importance of removing the stigma that still clings to this topic, particularly how to recognise when someone needs help and how when everything seems dark, even the smallest light can make a difference.
Hard hitting, thought provoking, heart wrenching, and quite simply unmissable. Continues tonight, https://www.unitytheatreliverpool.co.uk/whats-on/electrolyte-19.html
Reviewer: Johanna Roberts
Reviewed: 3rd July 2019
North West End Rating: ★★★★★