Set in the heart of Lancashire, Four Screens, written by Grace Long and directed by Tiril Hamre, tells the story of eight individuals and the complication of love that tangles them inextricably together.
David (Kieran Mason) desperately wants to be in a relationship and when the online dating app finally finds him that special someone it arrives in the form of American Jenna (Julie St. James) as we witness the opening cycle of relationships with the awkwardness of a first date, and whether people really do match up to their online profile.
The excitement of a new romance is somewhat thrust upon football-loving Adam (Liam Parkin) and pizza delivery girl Beth (Siân Wakefield) whose differing backgrounds contrast to how much they really have in common.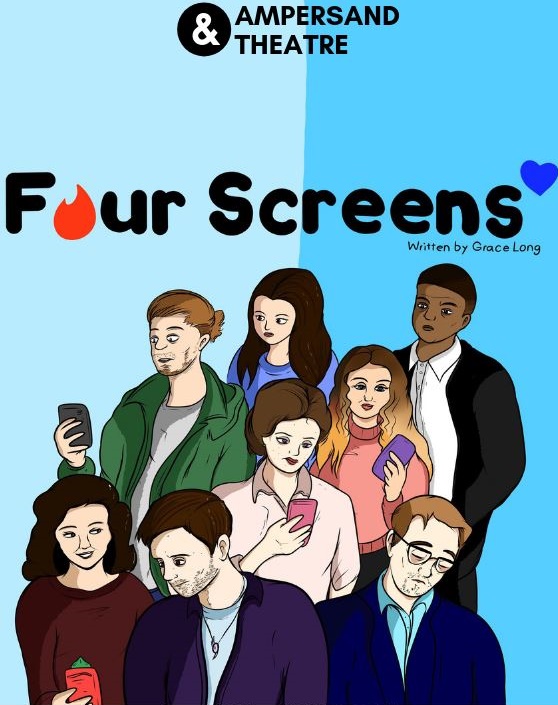 Cocksure Martin (Kofi Dennis) is having his cake and eating it as whilst his wife slaves the late hours away he wheels his willing work colleague Paige (India Best) home for a secret affair. But how secret is it after all?
And then there's Tom (Louis Gale) whose 'love' Caroline (Long) left him for another some time ago. But is she happy in her new relationship? And if not, does that necessarily mean she can share his longing to rekindle what they once had, if indeed they ever had anything at all?
We meet the male characters through monologue at the beginning which serves as a useful context for what is to follow, a similar device then used later with the female characters after the action and the relationships have begun to unfold, both of which serve to allow us inside the mind of a character rather than a mere observer of their external behaviour which is on display as they interact with their corresponding partner.
Simple and effective scene changes with musical accompaniment, under the guidance of Stage Manager and Technician Lauren Hitchen, allow us to move between each couple and unravel the further connections between characters that in fact ties them all together with an unexpected culmination that thankfully resists the temptation to provide the most obvious of resolutions.
It is a well-written and constructed piece that belies Long's young years and demonstrates her precise observations of events that must have unfolded about her, and the cast are consummate in their delivery and it is was clear they were enjoying performing the piece as much as the audience were delighting in watching it.
At an hour in length it was somewhat hurried on occasions and too often characters were played to their stereotypical extreme which whilst providing great amusement and laugh-out loud moments, did on occasion detract from the deeper meanings that I believe lie in this piece: I hope Long will look at developing those hidden depths further and perhaps with greater consideration for the tragic aspects that underline the piece as a whole. I can certainly see this performing to a wider audience although I would definitely retain the simplicity of the staging which yet again reinforces the adage that less is often more.
Ampersand Theatre is a theatre company based in Merseyside. It was set up by three emerging young producers and creatives – Dominic Beale; Joshua Ford; Julia Munro – with a vision to create and produce new, exciting, and thought-provoking theatre. Further details www.ampersandtheatre.co.uk
Four Screens was performed twice at The Hope Street Theatre on 16th June 2019.
Reviewer: Mark Davoren
Reviewed: 16th June 2019
North West End Rating: ★★★★