Dive brings together three very different works in progress, showcasing work from across Europe in clown, bouffant and physical theatre. This is a great opportunity, and a popular part of the festival (if the full audience is anything to go by), and it appears from the programme that works previously shared here have gone on to great success – Teatro Pomadoro's last show Cabaret From The Shadows became a Brighton Fringe award winner in 2017.
This evening's show combined an eclectic mix of new work from Finnish company Reetta Honkakoski, Paulla Valleurca from Spain and Teatro Pomodoro - who joke that they're from Huyton (via Spain, Italy and Japan!). The format is familiar to theatregoers who attend scratch nights or sharings, with two intervals allowing for the theatre to be reset and the bar to be enjoyed by the audience. These also provide an opportunity to enjoy the sketches of visual feedback for other Physical Fest shows and marvel at the diversity and range of this festival.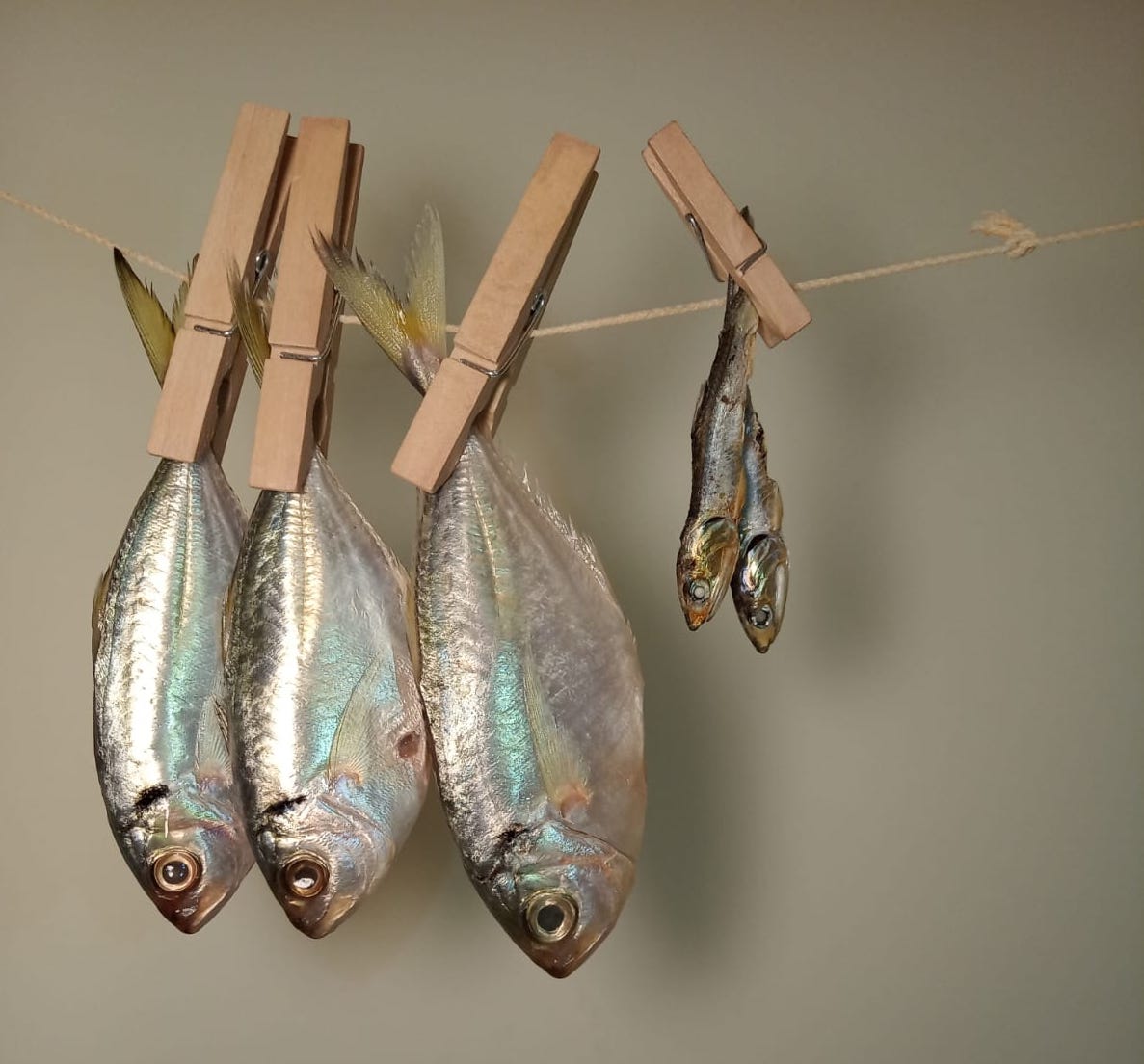 Hypnagogia (Reetta Honkakoski Company) by its own description is a disjointed tale which purports to explore the subversive capacity of the subconscious. There are inspired moments of physical theatre but much of the content feels repetitive. The comedic trope of a man in a dress is also getting a little tired. Hypnagogia explores gender dynamics but does not progress or develop them, there is no subversion here. This could be due to the fact that the three scenes presented tonight are part of a larger work. However, the use of whale noises and the warm space had many audience members moving towards their own subconscious.
Madame Señorita sees Paula Valluerca engage in some contemporary clowning as she attempts to share her interpretation of the perfect romantic love. Valluerca is an engaging performer who quickly has the audience falling in love with her, and vice versa. By the end of the performance there's talk of the future – 'is this just a fling, or something else?' - and the big house she'll rent so the audience can all fit in and 'run the marathon of love' with her! As you would expect from an award-winning clown this is a nuanced and layered performance engaging with Valluerca's identity (her heritage is referenced in her matador inspired shoulder coat) and the challenges of love and dating. Anyone familiar with the pain of stilettos breathes a sigh of relief as Valluerca takes hers off, having run around the stage for several minutes. Later in the show she puts them back on bringing the audience to tears – who knew putting on heels was so funny? – and then evokes memories of Saturday nights and weddings as she painfully moves across the stage. This is a fresh and funny performance from an assured and confident clown.
Fish Out Of Water: A Shipwrecked Odyssey is the latest offering from Teatro Pomodoro combining clowning, live music and dark comedy to disrupt this ancient tale. Teatro Pomodoro are always a delight and this sharing highlights the potential of this work. There is some refinement to be done, their previous work Cabaret From The Shadows had a very episodic structure - which they are evidently comfortable with - and Fish Out Of Water needs a bit of narrative development to achieve a more cohesive and flowing structure which will allow their disruptive comedy to shine. The company's comedy is always on point and often politically infused – a wonderful sequence sees two 'men' debate the lack of men in the show and touches on recent debates around reproductive rights, rape and gender roles. Later 'Ave Maria' is performed, as you've never seen it before, accompanied by two seahorses doing a plastic bag ballet – the ripple of awareness that spread through the audience ('they're dancing with plastic bags!') further enhanced the humour of this sequence. The mark of a good work in progress is to leave you wanting more and Teatro Pomodoro definitely achieved this with their playful take on this Greek classic.
Reviewer: Clare Chandler
Reviewed: 14th June 2019
North West End Rating: ★★★★ (Work in Progress)