Having seen both the movie and the touring stage show, Rainhill Musical Theatre Company certainly have big shoes (or habits) to fill. Deloris Van Cartier (Lucy Bradshaw) is a cabaret singer desperate to perform at her mobster boyfriend, Curtis Jackson's (Bryan Dargie) nightclub, but he keeps her dangling on with empty promises. After witnessing him commit a murder, Deloris fears for her life and goes to the police who decide she needs to go into witness protection and what better place than a convent. What follows is an uplifting, musical comedy as Deloris enters into the unknown and changes not only her life but those of the nuns forever.
Bradshaw plays a believable Deloris although not quite as brash and loud as the movie portrayal. Singing 'Take Me To Heaven' along with friends Michelle (Laura Riley) and Tina (Michelle Dakin), I was initially a little worried that she had the conviction for the role but that was soon quashed as she launched into 'Fabulous Baby' and fabulous she certainly was as her voice became stronger, so I am putting the quietly sung opening bars down to first night nerves as Bradshaw continued to grow and play a convincing diva.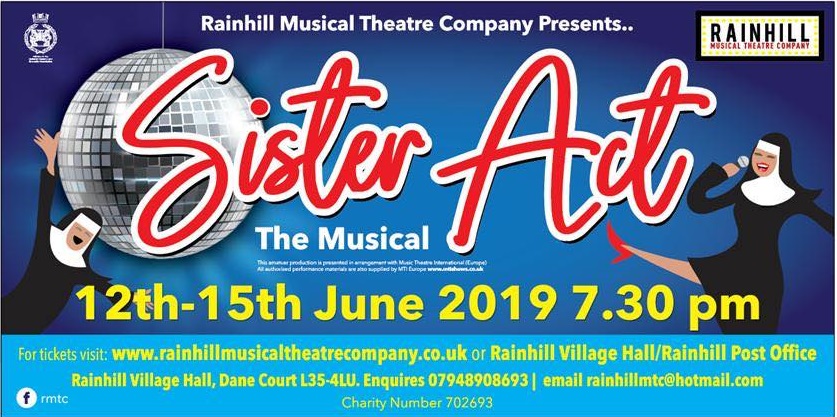 As cop Eddie, (Paul Robinson) or 'Sweaty Eddie' as we came to know him escorts her into the convent we meet Mother Superior (Samantha Moores), one of my favourite characters this evening who sings a couple of mesmerising solos during the show, plus featuring in several other songs. Robinson also admirably shows off his dulcet tones during a rendition of 'I Could Be That Guy'.
Throughout Mother Superior manages to keep her stern, authorative manner whilst all around Deloris is causing mayhem, she is not at all happy for her to be there but is persuaded by Monsignor (Addae Gaskin). She decides to pass her off to the other nuns as Sister Mary Clarence. Shocked there is no drink, smoking or inappropriate clothing and now decked out in nuns habit, Deloris makes a sneaky trip over to a local bar quickly followed by the effervescent Sister Mary Patrick (Julie Molyneux) and novice nun Sister Mary Robert (Blathine Maguire). Mother Superior is appalled at their behaviour and desperate to keep her out of trouble assigns her to the notably bad church choir which puts Deloris at odds with choir leader, Sister Mary Lazarus (Ruth Gibb).
As the nuns perform, it is blatantly obvious that there isn't a harmony to be heard and I have to say they are so good at being bad I actually wonder if anyone will actually be able to sing! Fear not, Sister Mary Robert is encouraged along with the others to 'Raise Your Voice' and they certainly do with amazing performances throughout. Maguire is perfectly cast as the meek and mild nun and captures the heart of the audience with her brilliant portrayal as we see her develop. Curtis accompanied by nephew TJ (Elliot Bailey) Joey (Dave Flanagan) and Italian Pablo (Ben Evans-Clarke) although they are the bad guys of Sister Act they ably provide some of the most hilarious moments of the show, particularly during the gun chase which took on a pantomime feel.
The music is provided by an impressive 11 piece orchestra who we are informed are backstage but thanks to technology we are able to witness musical director, Wayne Oakes conducting. Sound is perfectly balanced never drowning out any of the singing or dialogue. Lighting is fairly basic and a moving spotlight would be beneficial as occasionally as someone walks onto the stage singing they are not highlighted until they get to the centre. The simple set changes are a little slow and conspicuous, possibly down to first night again, these are minor niggles and didn't distract from a fabulous and enjoyable show produced and directed by Pip Bradshaw with excellent choreography (Lucy Bradshaw). It is also impressive that all characters are able to maintain their various accents.
This was my first time seeing RMTC and I certainly hope it is not the last. Well done everyone and sorry but space does not permit me to mention everyone by name but you are certainly not overlooked and worked well as a company together. Special thanks for the greeting and refreshments from Keith Marsh.
Sister Act continues at Rainhill Village Hall until 15th June 2019.
Reviewer: Lorna Weekes
Reviewed: 12th June 2019
North West End Rating: ★★★★