It's Your Funeral is a Liverpool-based dark comedy, written and directed by Kitty Lee Cooper, which follows Gary (Joe Ball), a recently sacked, depressed accountant who returns home from London for his Mum's funeral.
No sooner has he arrived than he has the bailiffs on the phone looking to recover the money his mother owed. With the threat of her house – now his home – being repossessed, he bumps into two lads from school he used to knock about with: Paul (Sam Kane) with whom he has a bit of history, and Ernie (Ryan McKenna) who lives with his Nan ever since his parents were, well, let's not go into all the details. After a few pints, they manage to convince him that the best course of action is to rob the local kebab house – as you do.
With Ernie's over-enthusiastic Nan, Pat (Geraldine Moloney Judge), and Gary's ex-classmate turned loan shark, Steve (Daryl Blackburn), entering the mix, surely it can only be a matter of time before the biggest and the best heist of the century will be declared a success. Can't it?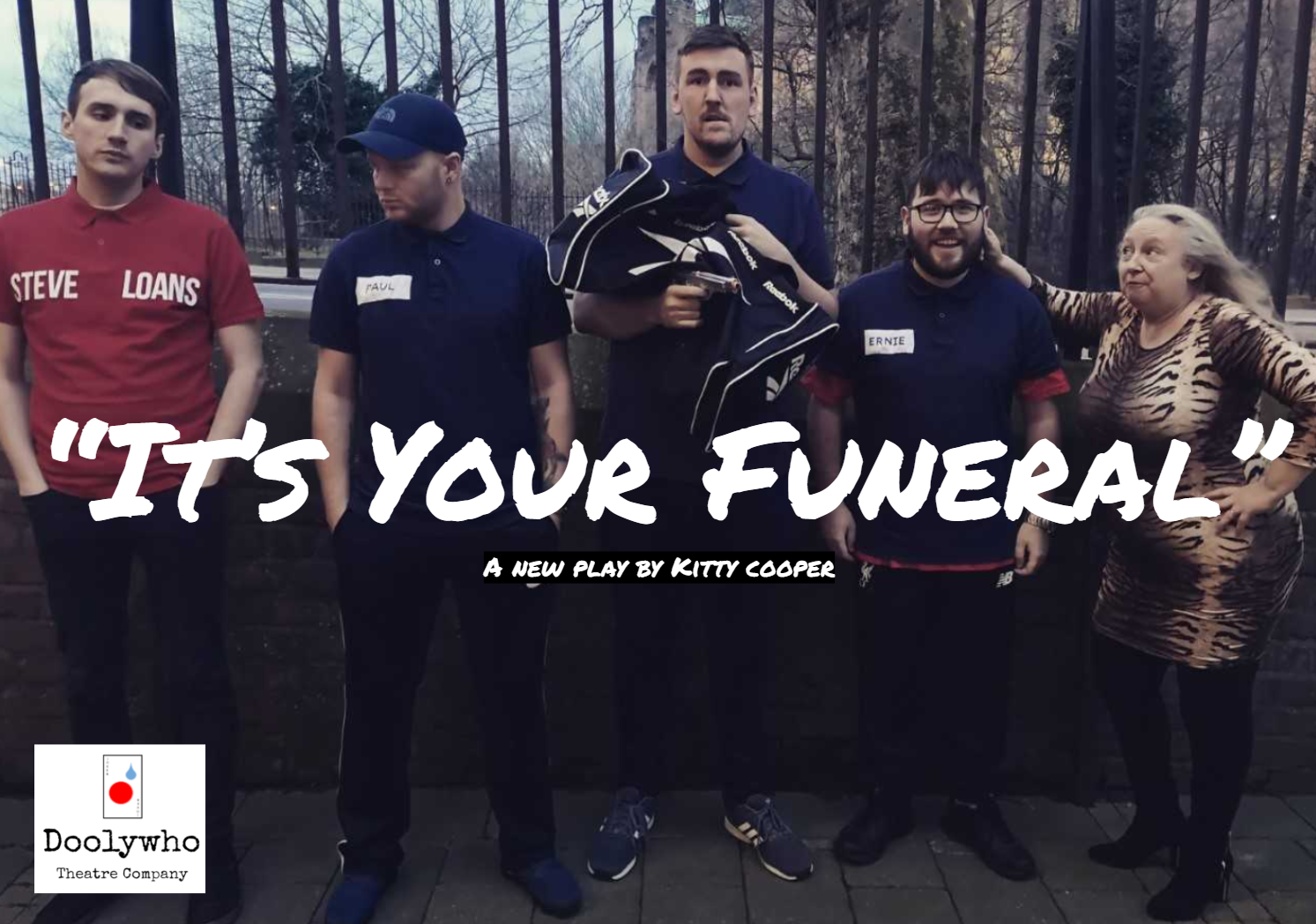 The piece is very much played for laughs by an accomplished cast and McKenna certainly stood out for his comedic performance. Kane's Paul had the right balance between friend and rogue with Moloney Judge's Nan suitably over the top whilst her heart was most definitely in the right place, and despite Blackburn's Daryl earnestness for doing good things for good reasons coming across, he can never be anything other than a woolly from Birkenhead to everyone else.
The company highlight in their programme – and with supporting material in the lobby – that the piece is designed to focus on mental health issues in men and whilst I felt Ball captured Gary's anxiety in a subtly understated way all too reflective of real life, the supporting drivers from those around him were less obvious until spelt out towards the end, being lost perhaps in the frenzied and very Scouse humour on offer. That's not intended as a criticism because it is refreshing to see a company taking on and promoting awareness of these issues but worth considering further in getting that delicate balance between entertaining and delivering a message right which is not always easy to do.
Ruby Muselle's stage management was simple and all the more effective for it: often less can be more as it was here. Sound, designed and operated by Leah Finnigan, in conjunction with lighting, designed and operated by Adam Murdoch, combined to add the icing to make for a polished production. Whilst we are all naturally drawn to the cast and the creatives, it is great to see young and talented backstage personnel being given a chance to come to the fore, so again credit to the company for giving them their opportunity to develop and shine.
The final word should always go to an audience and I can only echo the laugh-out loud moments too numerous to mention throughout and the clear sense of enjoyment wrapped up in the deserved applause at the end from a sold-out performance.
Doolywho Theatre Company are a new, Liverpool-based company whose aim is to make politically underpinned theatre enjoyable and accessible through their creation of original work. Further details can be found at https://en-gb.facebook.com/doolywhotheatrecompany/
Given the themes in the play, Doolywho Theatre Company have teamed up with CALM, a mental health charity for men who can be contacted via https://www.thecalmzone.net/help/get-help/
Further information on The Black-E can be found at http://www.theblack-e.co.uk/content/about-us
It's Your Funeral performs once more on Sunday 9th June 2019 at the Black-E at 7.30pm.
Reviewer: Mark Davoren
Reviewed: 8th June 2019
North West End Rating: ★★★★