Naughty Corner's iconic show Not the Horse is back for its fifth anniversary. A scouse gangster comedy featuring cocaine, ketamine and horse semen, this fantastic show has turned theatre on its head and continues to do so half a decade on.
Written and directed by Mike Dickinson, this surreal play tells the story of Tony (Nick Sheedy), a young scouser in a whole heap of trouble. Most pressing is the £250k he owes local gangster Dom Jones (Tom Silverton). Fearing for his life after being threatened by Tony and his minions Face (Damien Hughes), Beef (Liam Powell Berry) and Mince (Adam Nicholls), Tony explains the situation to his best friends Paul (Michael Hawkins) and Stan (Warren Kettle).
The whole problem stems from buying a dud horse from strangers Tony met in a caravan park which then lost a race against Dom's champion racehorse Zorbo. The lads eventually decide to break into Dom's stables and steal Zorbo's champion horse semen which they can then sell to raise the money Tony needs. But things don't quite go to plan, and they accidentally steal the horse instead.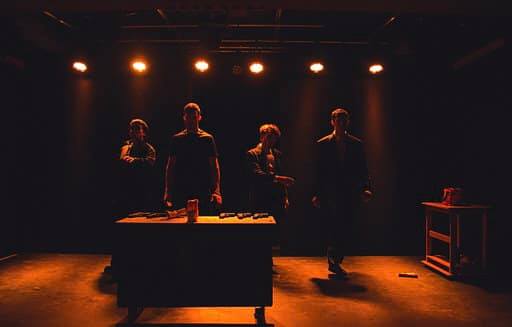 There's also the matter of the £20k Tony owes Archie (Thomas Galashan) and his friends Jerrie (Sam Brown), Hughie (Pete Smith) and Ernie (Callum Forbes) for the dud horse they sold him.
But at least the smooth and mysterious Silk (Daniel Carmichael) is there to help. Or is he?
Everything seems to have gone wrong and it looks like everything would be easier if Tony and his friends just "got" Zorbo's semen themselves. It's a brilliant plan, and now all the lads have to decide is who is going to go and do the "getting".
I saw first work from Naughty Corner a couple of years ago and thought then that they were doing something very special. This outing of Not the Horse shows how much they have refined and grown as a company and what was an excellent show has grown into a spectacular surreal showcase which had the audience laughing out loud from beginning to end.
The intimate atmosphere of the Royal Court Studio created the opportunity for some wonderful physical comedy onstage and allowed the cast to make use of the audience area, creating an immersive atmosphere.
The visual experience of Not the Horse is very cinematic, using many techniques more often found in film than theatre. Lighting is used to great effect and glowing clouds of cocaine floating in the air add to the surrealness of the show as a whole. The blocking of the actors is very clever and the play uses montage, tableau and slow motion in an incredible way to create a mesmerising visual display. Scene changes are seamlessly incorporated into the plot in a unique and intelligent way.
As well as physical and visual comedy, the script also utilises clever word play, creating layers of humour in this fast paced show. In Not the Horse, Mike Dickinson has taken everything that is wonderful about film, television, music, British comedy, scouse humour and theatre, and utilised the very best of it, while making fun of every element along the way.
The cast gel well together and the performance was flawless. Synchronisation of movement, presence of character and commitment to the story, no matter how far down the rabbit hole they fell, means every actor in this piece deserves commendation for their vital contribution to the show.
This is a wonderful piece of theatre, worth seeing for the infamous ket sequence alone, and fully deserved the standing ovation it received.
Not the Horse is being performed at the Royal Court until on 27th April 2019. Tickets are sold out.
Reviewer: Donna M Day
Reviewed: 25th April 2019
North West End Rating: ★★★★★