Burjesta brings the traditional Punch and Judy story into the here and now with this modern adaptation, written and directed by Julian Bond, as a battle plays out for the heart and soul of civilisation and the very future of mankind.
Punch (a lively and energetic Peter Durr) is our working-class anti-hero and very much a product of the system that he doesn't fit into making him dislikeable because of it and for it as he represents and takes on all that is apparently wrong in the world.
Domestic violence is explored through his treatment of partner Judy (Mikyla Jane Durkan) and Baby (Maggi Green), with his objectification of women exaggerated further through his approaches to potential amore Pretty Polly (Angela McComb). If there is any saving grace for him then could it be through, in a respectful nod to Commedia dell'arte, Joey the Clown (Yahya Baggash)?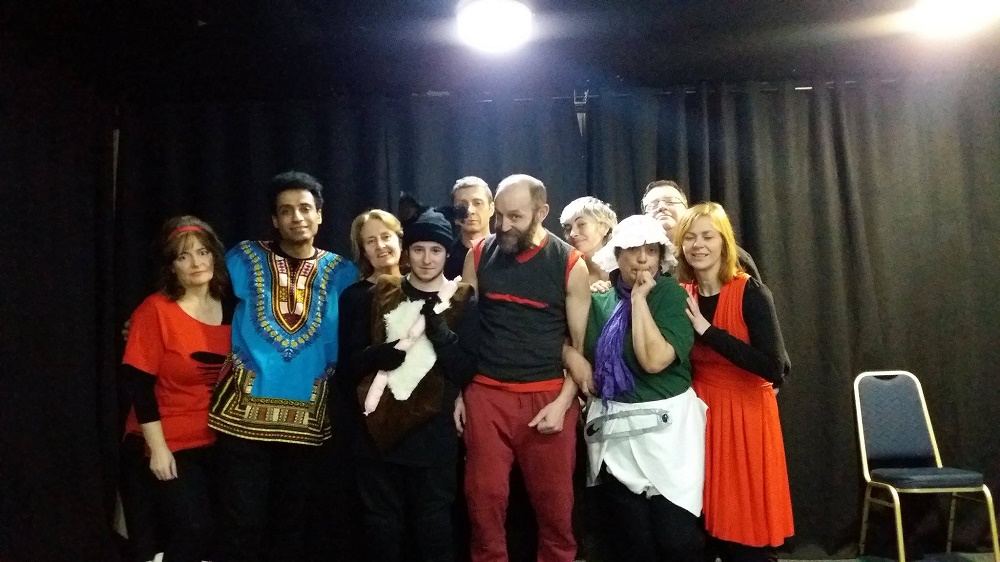 All of society's supposedly reputable skittles – judiciary; church; government agencies; etc – are lined up and knocked down again and again as Punch bowls his way through them including the Lord Chief Justice and a Truancy Officer (both Lindsey Fooks); Social Worker and Doctor (both Green); Police Inspector and Civil Servant (both Sam Tolmie); and a Priest (PJ Murray). Even working-class stalwarts Phil (Robbie J Harper) and Tigs (Maria Hutchison) are shown up for the very same inadequacies as bedevil our Punch meaning there's not much to laugh about in this gritty depiction of all that is wrong with modern day life and its hold on the status quo.
So, after all his despicable crimes, is there hope at the end Punch's tether? Well maybe but it's certainly not behind him and so it is with an eye for the future that Burjesta's brave new world must be sought out.
It's a well put together production – I liked the simplicity of costumes with a splash of colour when needed – which cleverly distils the essence of the traditional Punch and Judy story throughout. The programme notes that the cast had full input into the script, including questioning the morality of Punch's actions, which is evident through the competency and skill in each of their performances that combined, despite the bluntness of the unfolding action, with a subtleness and skill. The early 1980's musical soundtrack resonated with the action on stage and reflected the shift from anarchic punk to a more hopeful futurism without ever reaching any new romanticism.
And that probably sums up Burjesta too who after seven years, twenty productions, and a hundred shows are taking a well-deserved break, but will I hope come back resurgent and suitably recharged in the fullness of time, ready to tackle and right the next wrong in society. I don't always see eye to eye with their targets, but their continued exposés of what they see as wrong in the world are an essential ingredient serving to remind us, their audience, of the risks of becoming too acquiescent and comfortable with our lot in life at the expense of others: that's most definitely the way to do it.
The Casa Bar and Venue at 29 Hope Street is at the heart of the University/Theatre district. Further details available at http://www.casatheatre.co.uk/
Burjesta Theatre has a strong reputation for putting on original work and adaptations. For further information please see their website http://www.burjesta-theatre.co.uk/home/
Punch and Judy versus the Devil has two further performances on Saturday 9th and Monday 11th February, both starting at 7.30pm at The Casa, Hope Street L1 9BQ. This is an 18+ production – not for children. Tickets are £8 and are available via https://www.ticketsource.co.uk/whats-on/liverpool/the-casa/punch-and-judy-versus-the-devil
Reviewer: Mark Davoren
Reviewed: 7th February 2019
North West End Rating: ★★★★