The Unity Theatre continue to showcase excellent entertainment tonight as part of DaDaFest which is an innovative and cutting edge disability and Deaf arts organisation based in Liverpool. This November, 'DaDaFest International' aims to inspire, develop and celebrate talent in various art forms that all aim to challenge stereotypes and celebrate disability and D/deaf cultures.
Laurence Clark takes to the floor tonight to deliver his hit comedy "An Irresponsible Father's Guide to Parenting". Laurence is a household name for his success in comedy however he has also reached into the world of writing, acting, presenting and is a well known disability rights campaigner. Tonight Laurence looks completely at home on the stage as he does what he does best – entertain!
Laurence has an infectious personality which is apparent from the start of the show. His hour long set makes use of projections, video clips and photos which allow the audience to completely enter the personal life of Laurence Clark. These visuals really enhance the audiences experience as Laurence shares intimate, engaging videos to create comedy that is personal, funny and charming.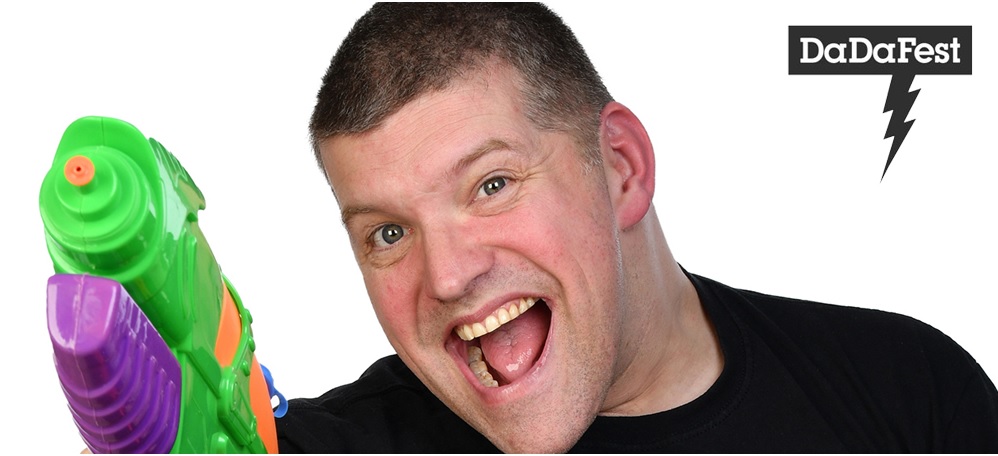 Laurence bravely explored some of the disgusting comments written about his parenting skills online but thankfully he had his two sons' trusty opinions on these comments to create some hilarity and fun. These clips were comedy gold and brought the whole show together as the audience had the privilege of gaining an insight into Laurence's endearing family life, whist also laughing at his humorous one liners and comical view on life.
Some other highlights and memorable moments were Laurence's interpretation of his "biggest failures" which he nicknamed 'top of the flops' and his answer to an online troll who criticised the way in which he picked up his newborn son. This show is a good mixture of comedy and real life issues that resonate with the audience and send out some crucial messages of embracing diversity. There was a huge respect for Laurence that radiated as the show came to a close for his life achievements as well as his unwavering determination and willpower to stand up for himself and others with disabilities, simply because of who he is. This man is both funny and inspirational and is well worth going to see as you will come away feeling uplifted and full of joy for having encountered Laurence Clark. Find out more about DaDaFest International and book tickets at www.dadafest.co.uk/events
Reviewer: Blathine Maguire
Reviewed: 24th November 2018
North West End Rating: ★★★★★