Baggage is a one act play written by Bev Clark exploring themes of female friendship and loneliness in the modern world.
Reminiscent of Edward Albee's The Zoo Story, the set's main feature is a bench on which two characters who start out as strangers have a brutally honest conversation about love, life and loss.
Baggage begins with Sandra (Susan Reeve) running onto the stage laden with Christmas shopping as her bus pulls away. Collapsing onto the bench, she breathlessly laments the fact that she always misses the bus, before passing out.
Shortly afterwards Annie (Geraldine Moloney Judge) arrives with a shopping trolley full of her belongings. Noticing Sandra seems to be completely unconscious she takes her handbag and begins rifling through it. Sandra wakes up and accuses Annie of robbing her. Annie protests and says that she was looking for a phone to call an ambulance as she thought she was ill.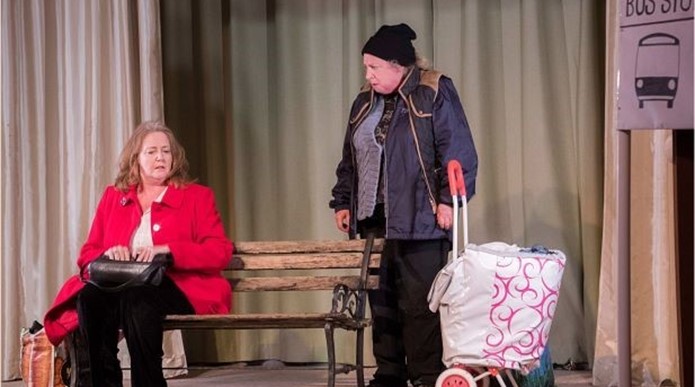 Sandra tries to justify her accusation with declarations about "homeless people" and the offended Annie tells her she shouldn't be so presumptive. Sandra offers Annie food and water as an apology and a delicate truce is formed before the two women begin a conversation in which all the secrets and regrets of their lives are opened up in beautifully poignant dialogue.
Sandra is a wife and mother of three teenage children and has begun to feel underappreciated and invisible. Feeling truly sorry for herself she tells Annie that she's lucky to not have a family to put up with. This leads Annie to open up about her tragic past and united in their pain and grief the two women form a solid friendship.
The play explores themes of the place of both women and homeless people in society. If identity is something which you fall into rather than something you choose, loneliness and regret can become the very core of your being.
Delicately weaving together nostalgia and painful memories, this is a fiercely honest analysis of real life which feels truly immersive for the audience. Looking at how quickly you can be swept up in a cycle of events and lose control of your life, this is something which will resonate for many people.
Reeve's performance as the unappreciated housewife was beautiful in its desperation for someone, anyone, to listen to her. The decision has bravely been taken to use non-waterproof make up which left violent streaks around her tearstained eyes, something which would prove too raw and brutal for most directors to allow.
Moloney Judge's portrayal of Annie was fiercely honest and genuine, heartbreakingly simple in its exploration of a place in society which anyone, anywhere could end up living in.
This is a short play and the depth of these characters could easily have been given a longer story, but the power in this one act is strong enough that Clark's script does not need to be stretched out in order to satisfy an overly curious audience.
This is a snapshot into two lives, captivating and haunting, and it will stay with you long after the curtain call.
After all, we all have baggage, and everyone needs someone to share the load from time to time.
Baggage is showing at the Crown Hotel Lime Street on 23rd October as part of a double bill for the Liverpool Irish Festival. Tickets are available here https://goo.gl/xUd9ZH
Reviewer: Donna M Day
Reviewed: 20th October 2018
North West End Rating: ★★★★★