I might be one of the only humans on the plant who has not ever actually seen Hairspray. I know the iconic 'You Can't Stop The Beat' song, and that it's about a curvy girl called Tracy who wants to be on TV but that is it. However I knew it was one not to be missed, so I thought I'd give it a watch and boy, was I blown away!
For those as ignorant as I who don't know the plot, we find ourselves in the 60's in the era of segregation, where racial slurs are part of the accepted vocabulary. Tracy being a little larger than the usual TV star is just the tip of the iceberg! She risks her chance at fame to help out her POC friends who are dedicated just one day a month (insultingly called 'Negro Day') where they are allowed to dance. Somehow, this musical is hilarious and fun, as well as poignant and satirical. But enough of the politics.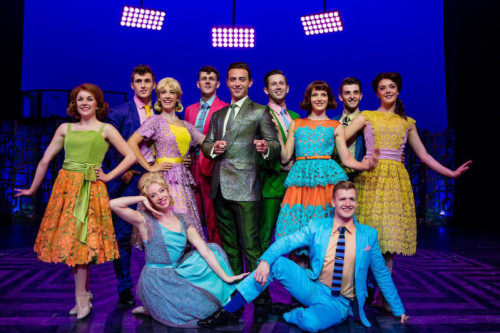 Our unlikely hero, Tracy Turnblad is played by Rebecca Mendoza. I know that Tracy is canonically quite nasal but at times this was a little grating. That said, she was very lovable! An important part of the plot is that Tracy is an amazing dancer and although Mendoza was great, Tracy's dancing didn't especially stick out as vastly better than any of the other dancers, which was a shame. Almost as if she was supposed to be a good dancer 'for a bigger girl', which is clearly not the point.
Best friend Penny Pingleton, played by Annalise Liard-Bailey is an excellent comedic character and her relationship with Seaweed (Layton Williams) is so wonderful that I thought my heart was going to burst.
In fact, Williams' Seaweed absolutely stole the show. Dancing as if he had no bones in his body to hold him back, with amazing stage presence and chemistry, I could have watched him all night! The only slight downside was that his vocals, although lovely, are not as powerful as some of the others and came across a little quiet at times.
Speaking of vocals, there are some unbelievable voices in this cast. The Dynamites (Emily-Mae, Melissa Nettleford and Lauren Concannon) sang incredible harmonies and reached heights that I didn't think possible. Motormouth Maybelle, played by Brenda Edwards, certainly lived up to her name with a pretty impressive set of pipes! Although she was the baddy of the show, Gina Murray as Velma Von Tussle was a fantastic performer, as was her daughter Amber, played by Aimee Moore.
Tracy's larger-than-life mother Edna was played wonderfully by Matt Rixon, although her dad, Wilbur, played by Norman Pace was likeable he felt a little flat in terms of energy a few times. There was the odd moment of ad-lib where the couple fell out of character which was very funny, but also felt a little pantomime.
The live band really brought the music to life and it was great to catch glimpses of them throughout the show.
The set was simple, using a lot of projection to change location and two large 'brick' structures' out of which various bedrooms' emerged. The costumes were fantastic - colourful and eye-catching and a whole lot of fun. They really captured the essence of the show!
There were a few plot holes that were not explained hugely well - although I won't go into specifics so as not to ruin the story!
At the end there was a huge standing ovation and the audience danced their way out of the auditorium. After all, you can't stop the beat, and you wouldn't want to.
Reviewer: Codie Wright
Reviewed: 16th April 2018
North West End Rating: ★★★★