The challenge of a play that is so well known and loved, and that has been so successfully filmed, is what can you do with it? Daniel Taylor returns to his roots with Trisha Duffy's adaptation re-staging the play in 19th Century Liverpool with the warring Montague and Capulet families cast across the then very real sectarian divide that saw Liverpool known as the Belfast of England given the regular outbreaks of violence between two communities – the perfect place for a pair of star-cross'd lovers to meet.
We open with Choirboy narrator (Isaac Lancel-Watkinson) before Capulets Samson (James Templeton) and Gregory (Sam Donovan) swap blows with Montagues Abram (Luke Lucas) and Benvolio (Timothy Lucas) as the Capulet cat, Tybalt (Daniel Taylor) spurs things on. City Chief (Neville Cann) calls matters to order as he lays the law down to Capulet (John Schumacher) and wife (Sharon Byatt), and Montague (Fra Gunn) and wife (Lucy Litchfield).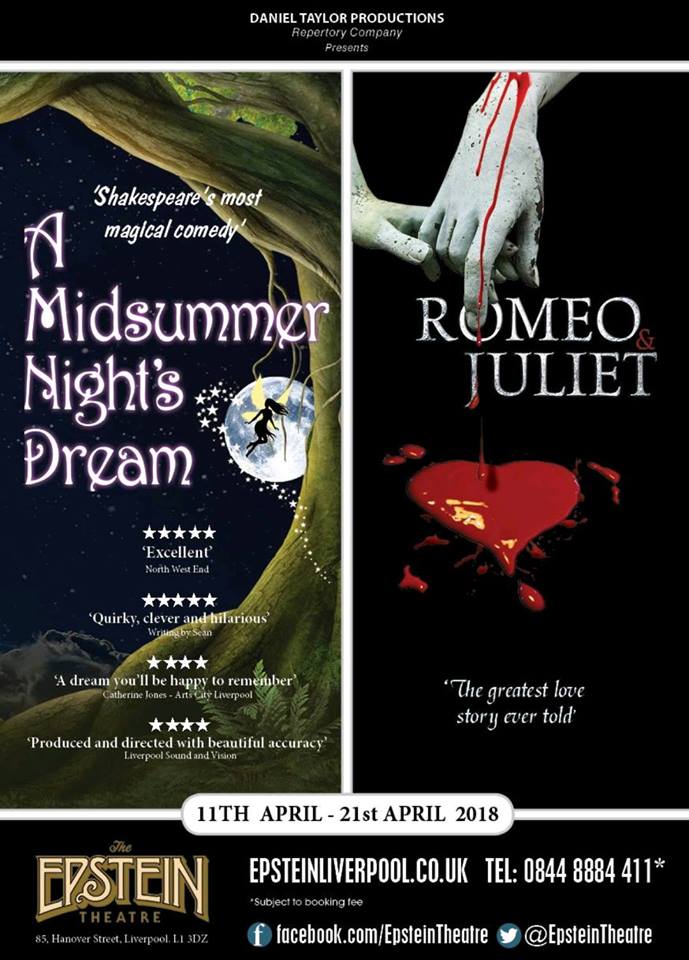 Elsewhere matters seem equally serious as Juliet (Faye Griffiths) is made aware of the intentions of Paris (Ed Barr-Sim) by her mother and her bawdy Nurse (Chloe Taylor) aided by a maid (Emma Webber). Manservant Peter (Templeton) is sent off to fetch guests for the forthcoming Capulet party and bumps into Benvolio and Mercutio (Lenny Wood) who are mercilessly teasing their love-struck cousin Romeo (James Ledsham) – can there be any better cure than to gatecrash a party?
Well, our pair meet and with the best-meaning intentions of priest Father Laurence (Nick Wymer), there does appear to be a way forward. As long as there are not too many long, hot summer days for temperatures to rise, tempers to get out of control, and things to go horribly wrong…
This was an enjoyable production that made much of the humour that is evident in most Shakespearean tragedies, until the action spins in Act 3 Scene 1, with strong performances from cast members. Donovan's Mancunian apothecary was laugh-out-loud funny; Templeton's good humour is infectious; Wood's Mercutio captured all aspects of an entertaining albeit complex character, summed up perfectly in his heartfelt enactment of the Queen Mab speech. Chloe Taylor had the hardest job of all since the Nurse has been so strongly presented before on stage and silver screen: much to her credit she chose not to compete but rather made it her own and I thoroughly enjoyed her portrayal.
The staging was constant and simple throughout with clever use of back lighting through an open cross to capture the ever-changing mood as the play progressed. This was well accompanied by music and sound effect, although the contrast when both were muted did on occasion leave the piece feeling a little flat, but this was soon offset by the heart beating drum and the moving and beautifully sung requiem from Lancel-Watkinson.
There was good use of the audience space to provide a more immersive experience with actors entering from the floor and whilst it was a clever idea to use the upper seating area for the famous balcony scene, it is probably worthwhile ensuring that your media reviewers are within the correct sightline as sadly many of us were unable to see or properly hear the moment when our pair fully declared their love.
Daniel Taylor Productions is a Liverpool based theatre company. 'Romeo & Juliet' and 'A Midsummer Night's Dream' perform alternately at The Epstein Theatre through to 21st April 2018. Tickets are available via http://epstein.ticketline.co.uk/
The Epstein Theatre is located in the heart of Liverpool and showcases a wide-range of theatre and musical productions. Further details at www.epsteinliverpool.co.uk
Reviewer: Mark Davoren
Reviewed: 11th April 2018
North West End Rating: ★★★★