What do you first imagine when you hear - The Jungle Book? Is it the catchy rhythm of 'The Bare Necessities' from the 1967 musical animated film? Or maybe it's the 2016 live-action version that springs to mind. But, forget all that as The Jungle Book is here like you've never seen it before on stage, as Jessica Swale's adaptation takes you on a journey that will change the way you see The Jungle Book forever.
The Jungle Book tells the story of man-cub Mowgli and his development as he is raised by wolves, as one of their own and along the way we meet an array of interesting characters such as Baloo, Kaa, Bagheera and the man-cub hungry Shere Khan. (If you don't know the story I suggest you put it in your list 'to watch'). Swale's version almost sticks to the original storyline with a few tweaks here and there, that actually work well for this version and her decision to cut a few characters doesn't bother me - they wasn't missed in my opinion.
Mowgli is portrayed by Keziah Joseph and I didn't think it was possible for a female to take on a male role and play it so convincingly but she proved me wrong, I actually forgot she was of the opposite gender at times - a great casting decision I thought. Her use of vocal play and dynamics to support her puppetry of young Mowgli at the start of the production was fantastic and the solo she delivered when discovering Mowgli is actually a man was a highlight of the production for me.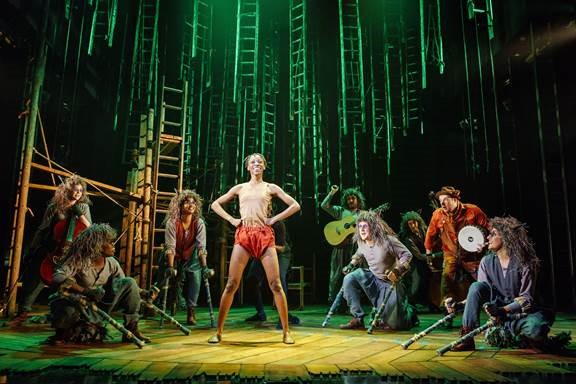 Shere Khan played by Lloyd Gorman gives off an almost 'Macavity' vibe from CATS mixed with an evil Elvis. Baloo is played by Dyfrig Morris and his interpretation to the character gives off Mr Tumble vibes which makes him a hit with those younger in the audience but his comedy ability also proves him a hit with all. I absolutely loved 'The Funkies'. There's something about hearing the laughter of children in the audience that makes you smile with joy and their 'cockney gangster' style adds a modern twist which drags The Jungle Book into modern day I thought it was 'amazeballs' and who doesn't love when the characters come into the audience because I certainly do. I thought the stylistic use of puppetry used in this production is what separates it from another boring adaptation - in particular Kaa, the puppetry used to portray her animalistic movement really works for me. Looking around I could see plenty of children in the audience, but in my opinion this production is for the more mature children than those sat in the theatre tonight. I think the adaptation is a mature story that teaches you that it is okay to be different and that everybody is equal and fits in somewhere even if it's where others think you don't belong, which is a powerful message that all should hear. I could see the distraction of some of the younger audience members and even heard one little girl shout 'The Jungle Book pantomime' which I think people are expecting but OH NO ITS NOT, it has such a deeper meaning and understanding that I feel it's lost in those younger. In terms of songs, you're in for some treats in particular the end of Act One and the opening of Act Two where Baloo makes us all hungry with his song about food.
Set consists of an adventure playground of wooden ladders, ropes and pathways that are used very well throughout the production. Also, the use of the rotation of the staging works for me - it adds a visual dynamic that I think compliments the story-telling well. Peter Mckintosh exceeds in both set and costume in this production it was something I couldn't fault, the creative choice to use crutches to represent the front legs of wolves is a visual treat and adds to the characters even more.
Is it a production for younger children? In my opinion it's not. This adaptation of The Jungle Book is a mature portrayal of a classic - introducing 21st century elements that bring it to life on stage through the teaching of equality and diversity. It's most definitely worth a trip, to see this promising adaptation.
Reviewer: Daniel Cox
Reviewed: 13th February 2018
North West End Rating: ★★★★